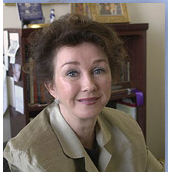 Poetry is an echo, asking a shadow to dance.
Carl Sandburg once wrote, "Poetry is an echo, asking a shadow to dance." JMU has been blessed to have its own living poem here on campus for over fifteen years. She is known to us by her smile, her sense of humor, her honesty, her dedication and love to her students, but most of all, by this magic which those her know her well recognize but find difficult to describe. Somehow, she has this ability to encourage and believe in a person exactly at the moment when they are ready to change direction or give up a dream. She coaxes the shadow to the stage just one more time.
By Sandburg's definition, Karen Evans is poetry in motion. As an academic advisor, she assists many different kinds of students, ranging from those in the Honors Program, to those students who attempt to re-enter the university after illness or suspension. She does everything she can to assist in the best way possible, and has even been known to come in on her day off to help students re-adjust to JMU. She has developed the Academic Success Program to assist students in need of help. She encourages all her students to be the best they can be. She gently leads them to see their potential, and then asks them to go out and meet it.
"Karen brings out the best in people through her honesty. By being honest with all her students, the students in return gain a trust for everything that Karen says and everything that she relates to. Through this trust, we also gain connections to Karen and these connections both last in and out of the classroom."
Karen acts as an echo to her American Poetry and Multicultural Awareness classes, allowing the students to research and present on those topics that have the most meaning to them. She uses her own brilliance to enlighten the class, and steps back to allow and enable her students to put that knowledge to immediate use.
"I had the opportunity to take a lot of it with me on alternative spring break this semester. We really learned from her and so much of what we learned in her class about being accepting, listening to what other people have to say and helping them understand why their perspectives have been formed the way they were...these ideas were really shaped for us in her class. We were able to take so much of what she taught us and apply it even as soon as this semester."
Each of us are filled with shadows. Dreams that seem too difficult to achieve, ideas that seem too trivial to be worthwhile. Karen's magic finds those ideas within us and challenges that no dream or idea, if it stirs the heart, it too difficult or too small to achieve. She asks you to dance; and if you are brave enough to do so, you recognize your own worth and realize your strength and ability were there all along they simply had to be nurtured.
"She never forced her opinions on us-she let us develop our own understandings without ever putting her own perspectives into that."
Karen nurtures through her constant love and inspiration. Whether it's through advising or teaching, she shows her heart and soul to her students. She cries when reading a particularly touching poem, and she has also meets with students years after they've taken her class, regardless of whether it's about academics, or their personal lives. She receives Christmas cards from students who have graduated long ago. She has been known to call a student's home out of concern, or visit a student in the hospital. By showing her care and love, she has saved lives.
"She has a big heart, and you can see that come through a lot, even in the way she talks about her family I felt like I knew her that much more."
She shows each person she meets that they are worthwhile. That they matter. And that they must dance and make a difference to the world.
"She's compassionate, caring, understanding of society-our past, our present, and what the future could look like, she encourages students by allowing them to realize their own unique potential. She's brilliant and observant and uses her gifts to make you feel like a great person."
Karen Evans embodies the spirit of AllTogetherOne by encouraging, nurturing, and challenging those shadows, and emphasizing that every student, no matter what their circumstance, has something to contribute to this community.
The JMU community thanks Karen Evans.
Written by: Kris Gillen