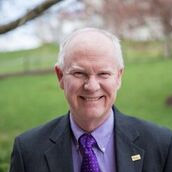 Have you ever met a person who you intuitively knew was going to leave a positive mark on you and others? It is quite an extraordinary experience to find a person like this, especially in an unexpected, unassuming place like Harrisonburg, Virginia. Well today I am going to share with you all about one of these extraordinary people here in our very own Friendly City! This is a gentleman who lives to the most, each day. He spreads love to nearly every part of the Harrisonburg community and beyond by commendable actions such as leading a Boy Scout troop for several years, founding a Cub Scout program for local Hispanic boys, leading a semester in Florence, Italy, for which he took the time to take Italian courses here at James Madison to further the experience of the students he led there.
He uses his love of photography to show us the beauty of Shenandoah Valley. Based upon what the nominators have said about this man, he truly wants to make every person feel respected and bring their story into the light. One way he has done this is creating the project, Picture It, documenting James Madison University freshmen and their experiences at this awesome university. Another way, is providing beautiful pictures of JMU and the Edith J. Arboretum to hang in multiple academic buildings around campus to keep reminding students, faculty, and staff that even when things are difficult, nature will be an ever-constant presence to renew and refresh our minds and hearts. Wow, are you amazed yet at what incredible things this gentleman has done for our community? From the many, many nominations of his colleagues, friends, and staff, they all emphasized his enthusiasm, passion, an ever-constant drive to learn. For over 30 years, this gentleman has improved James Madison University in so many ways, especially as Director of the Office of Institutional Research.
His staff shared, "He goes above and beyond the call of duty in producing and furnishing to multiple JMU departments and offices:  research notes, newsletters, studies, and papers about JMU to the entire James Madison Community. He is a patient, articulate teacher able to take complex data and information concepts and make them understandable across education borders."
Senior Vice President of Student Affairs, Mark Warner shares, "JMU is a better place for all the many contributions [this gentleman] has made on campus. Personally, I am just grateful my path crossed his on this wonderful adventure we call life."
There is an individual among us today who has been incredibly impactful here at James Madison University and the Community of Harrisonburg.
He creates an environment of encouragement with the phrase, "There is no mistake you can make that I have not made myself." What an extraordinary individual with such humility and drive to make things better for those around him! All of us in the James Madison Community thank him for all the positive efforts he has both professionally and personally contributed to James Madison University. We thank him too, for the motivation and inspiration he has provided to all those on his team and his colleagues, to accomplish greatly over his long period of exemplary service.  It is my greatest pleasure to present the 2018 All Together One Award to the Director of Institutional Research, the outstanding Dr. Frank Doherty!
Please come forward to receive your All Together One Pin and Certificate at this time.
Written by: Courtney Brogna