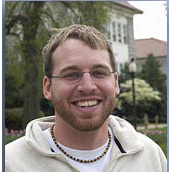 So far, only one tradition has developed at the College of Integrated Science and Technology at James Madison University. Change. Like a constantly mutating cell or a subatomic particle that is gone before it can be seen, CISAT is in perpetual motion.

Now, ISAT is not an All Together One recipient here today, nor are we here to talk biophysics. Rather, the excerpt I just read regarding the tradition of change at ISAT unequivocally relates to our next recipient, Mr. Kai Degner. In his past four years at JMU, this proud ISAT major (with t-shirts to prove it!) has changed and moved forward not just himself, but everyone and everything that he has come into contact with. 

Not surprisingly, Kai's favorite quote is, "a thought moves nothing." Kai has made it his personal mission not just to think of ways to change, but to actually seek out and effect change wherever he goes. Just as that mutating cell is gone before it can be seen, Kai's profound effects on people and on JMU often go unsung. Some may argue this point because Kai does receive a fair amount of recognition on this campus. He is the president of Integrated Science and Technology Honors Society, works as a Technology Assistant in JMU's Community Service-Learning office, participates in Alternative Spring Break trips, most recently to Dominica, and has won numerous awards for his intellect and service throughout his years at JMU. Not to mention, his hearty laugh and self-made t-shirts bearing his infamous slogan, "ISAT, I Came, I Rule," are perhaps hard to ignore. But, it is the way in which he has handled himself in all of these different roles, with his humble confidence and motivational spirit, that has profoundly inspired and influenced so many people through all of his pursuits. It is this intangible, yet perpetual motion that has left the real legacy on the JMU campus. And it is that legacy that is being recognized here today.

Co-worker and friend, Jason Pittman, reflects on the first time he encountered Kai: "I met Kai at the ASB leader retreat last year. We talked about goals and dreams, what we hoped to achieve. I was not only impressed by how high he was willing to set his sights, but that he was so open in sharing his dreams with me, a complete stranger at the time. Kai inspired me then, simply knowing that there were people like him who are still willing not only to dream, but to see those dreams through."

It would be easy for Mister ISAT to chalk up life to one proof or conclusion after another, but anyone who knows Kai, knows that he is a fervent dreamer. Unique to Kai, he has a subtle way of not simply making you feel a part of his dream, but of making you feel as if your own dreams are attainable as long as you remain persistent and zealous in your pursuits.
A close friend and fellow CS-L staffer, Atasi Das, talks about her thoughts on Kai: Kai doesn't allow you to put him on a pedestal; he truly respects other people and tells them so. This respect is a direct reflection of the person he is, always finding that unique way to turn the situation around to notice and appreciate the unique talents of someone else.

Adding to that, co-worker and friend, Isiah Carle Smith says that Kai works not for the common good [alone], but for the best interest in each person he's given the opportunity to interact with.
Kai has a clear vision of the big picture with everything he does; he has a force within that is ever-moving, ever-changing and ever-evolving. Whether he is utilizing his academic skills in ISAT, inspiring his fellow ASB participants in Dominica, or just making himself the butt of a corny joke, Kai Degner pulls people in and helps to affect change in people by understanding where they're at and helps them move to where they could be. Jason Pittman articulates multiple facets of Kai's persona with this quote: His tenacity is contagious, his intellect is provocative, his sense of humor is magnetic and his spirit and love for life, truly inspiring.

The culmination of all these traits came together this semester when Kai's alias arrived on the scene: "That Orange Band Guy." That guy has been draping our halls, bulletin boards, our bodies and book bags with that bright shade of orange, which was the symbol for the Orange Band Initiative.
For those of you not as well-versed on the Orange Band Initiative, its abbreviated mission is to engage JMU and its surrounding community in discussion about the Iraq situation by connecting individuals to the issue on a personal level and is committed to being civically engaged and enlightened citizens. JMU has seen few greater displays of All Together One than the Orange Band Initiative, which Kai co-founded. Through educating and enlightening people with different perspectives, the Initiative built community. Not to mention, Kai's vital role in the process illustrated his benevolent attitude and selfless devotion to the greater good.

Pittman articulates Kai's unique role in the Initiative. "He was so intent on making the organization a forum for all viewpoints that Kai sacrificed his own interest in expressing his views regarding the war. He did this out of sensitivity so that he would not contaminate the open forum for discussion and [possibly] alienate those whose viewpoints differed from his. I cannot think of another individual who would have postured himself so maturely and humbly for the greater good than Kai has." 

Aside from having to keep his opinions at bay for the betterment of the group, Kai was also put in a precarious position as he quickly was pushed to the foreground as Orange Band's spokesperson. Humble and gracious Kai was wary to take on such a role fearing that such personal publicity may put Orange Band's inclusive nature in jeopardy. Synonymous with the way he has always lead his life, Kai wanted the focus to be on individual growth and change, not on himself. However, he eventually took on the opportunity and responsibility with faith that his public persona would be a brief and, inevitably, more effective way to reach more students, thus positively affect the greatest number of people.

Orange Band could easily stand alone to personify Kai's character and clearly show how deserving he is of today's recognition. Simply the color orange is symbolic, in that it was chosen to symbolize the neutrality of the Initiative and in many ways parallels Kai's welcoming nature that is evident to all people and ideas that present themselves in his life. With Orange Band, and with many facets of Kai's life, he had a vision that he never lost sight of and transformed that vision into motion utilizing every possible channel he could. However, Kai is deserving of this recognition even without the Orange Band Initiative. He seeks to engage people in discussion at all points of his life because he wants to motivate others to enlighten themselves; Kai seeks to help individuals sort through their thoughts and emotions, and inevitably help them to create meaning in their lives and tap into their true passions.

Kai truly has the natural ability to pave bumpy and ambiguous roads smooth and clear. Yet, such changes often go unnoticed by Kai because he has already moved on wondering what more is to come and what more there could be. Kai's movement relentlessly changes himself and others around him, constantly finding ways to create rich communities by moving valleys, mountains, and people to the newly paved roads. Kai's tradition of change continues to inspire and build community here at JMU every day.

The JMU community would to thank, Kai Degner.