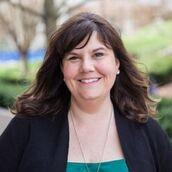 While working on the Selection Committee to choose the recipients for the 2018 All Together One Awards, all the nominations we received had names whited-out and I did not realize that Dr. Alysia Davis was the amazing candidate we were considering. Now here, I am thrilled to be able to share why my former professor has been selected for this award. In each nomination, it was clear that she really does embody the "All Together One" spirit and as one nominator stated, she exemplifies "what it means to 'Be the Change'- something that Dukes work toward every day." The reason I didn't recognize who Dr. Davis was when we were reading the nominations was due to the sheer volume of wonderful things she does, outside of that one class I took with her.
Her presence in the Office of Alumni Relations has been invaluable. Consistently, her nominators called her a "team player," "genuine," "caring," "thoughtful," "engaged," "dedicated," and "inspiring." Everyone described her as someone who inspires you to be better, just by knowing her. Her involvement in Harrisonburg Women's Service League, Girl Scouts, charitable work run by the Emmanuel Episcopal Church, and Rocktown Rallies demonstrate a commitment to community engagement. Alysia was one of the founding members of Rocktown Rallies, which seeks to help with local refugee resettlement efforts as well as engage in advocacy work for refugees. She even hosted a welcome party for refugees to Harrisonburg.
Alysia has reached thousands directly or indirectly with her social media presence to draw in support for refugees and women's progress. She started a Facebook group called Every Damn Day that has over 2,600 members from Harrisonburg and around the world, where people can connect on issues of social justice and gender equality. All of her actions demonstrate a mindful and intentional attitude in regards to caring for others and building community.
As a student in the Gender Issues in Science course she co-teaches, I saw firsthand one of the reasons why she exemplifies the traits of a worthy recipient. I can attest to the impact one nominator suggested that she has been "connecting strongly with the students and doing above and beyond what might be expected." She has truly demonstrated a dedication to learning through this course as well as previously teaching the introductory course for Women's and Gender Studies minor. I believe one nominator may have made an understatement in describing her as "well-liked by students and faculty alike." She has shared her commitment to social justice and gender equality both in and outside the classroom. Alysia has worked tirelessly over the past year and a half to create a successful program aimed at motivating investment and engagement in the university all year long with a diverse population of constituents.
When her husband was coach of the debate team, whether she realized this or not, she served as an influential mentor to students on the team. Her optimism, joy, and ever-gracious attitude inspire those around her to also create good out of any frustration and doubts. Alysia continues to bring her passions into her relationships with students today in her position with Alumni Relations. She pioneered an alumni event with the Alternative Break Program, embracing the $3 per person for dinner to better understand the S.N.A.P. budget perspective.
Perhaps the most moving contribution in my opinion that Alysia has made to the community is Café Davis. She and her husband take in 12 guests per night to eat a delicious, themed, home-cooked meal in her home to host 12 days of Christmas dinners around the winter holidays, no less than five courses per meal!  People from all walks of life are invited to pick a day to attend, knowing the menu, but not the guest list. She has given so much to this community to foster a sense of belonging like no other. I truly am moved by the incredible selflessness of Alysia and her efforts to share all that she can with those around her.
I believe one nomination put it best saying, "She is a true team player who acts with integrity, goes the extra mile, and always helps to connect people… She is a gem and we are fortunate to have her."
Congratulations Dr. Alysia Davis! Will you please come forward to receive your All Together One pin and certificate!
Written by: Ani Clem