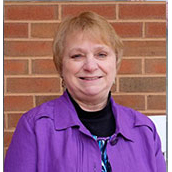 A caring attitude, a collaborative spirit, and a commitment to building community are just a few of the traits that are pursued in looking for an All Together One award recipient. Coincidentally, these are all traits that 2016 award recipient Shirley Cobb demonstrates on a daily basis.
Shirley Cobb, Associate Director and Clinical Director for the Counseling Center on campus, has been a member of the James Madison University community for 40 years, all of which she has spent aiming to better the JMU community in as many ways as possible. During this time, she has touched countless lives and left an unforgettable imprint at JMU. It is safe to say, that Shirley Cobb has gone above and beyond in dedicating her career and service to improving the lives of those at James Madison University, and also in the far-reaching community.
If you were to ask any of the staff that have had the privilege to work with Shirley, they would tell you that she is nurturing, steady, supportive, reliable, consistent, authentic, dedicated, and so much more.One of the key aspects of an All Together One award recipient is their commitment to collaboration. Shirley has served on numerous committees, working on groups, task forces, and commissions. In all of these, Shirley has made valuable contributions and as stated by one of her nominators, "she always brings grace and skill to any endeavor." In collaborating and working with others, it is apparent that Shirley has the ability to easily interact and establish relationships with individuals from all areas of the campus community. She is always willing to go the extra mile to help others—no task is too big or little for her to embrace. Shirley deeply cares for the students at JMU, and her inclination to always lend a hand to those in need truly exemplifies that.
The focus of Shirley Cobb's career has been to help college students grow and develop and to attend to their mental health and well-being. One of Shirley's colleagues states, "You can't do the intense work that Shirley has done in this arena for forty years, with the positive outcomes that she has had, unless you care deeply." She is a gentle, kind-hearted clinician who approaches her work from a strengths-based perspective. As Associate and Clinical director, Shirley creates and assesses services on a regular basis, participates on several committees, provides didactic training and supervision for clinicians-in-training, and builds a supportive community within the campus Counseling Center. Another one of her colleagues writes, "She is a leader, colleague, and dear friend to all of us. And, as her colleague, it is comforting to know that Shirley is in the building." Not only does Shirley have a collaborative spirit, and a caring nature, though, Shirley is a true inspiration to those around her.
Her colleagues at the counseling center write, "Shirley is an inspiration and a role model for everyone who has the privilege of working with her. Her knowledge of the mental health field is extremely extensive, but what is even more impressive is how she couples this professional knowledge with an understanding of people that allows her to reach those with whom she comes into contact on an authentic, human level. Students, parents, administrators, faculty, and staff have all greatly benefitted from her clinical expertise, consultation, and outreach programming, and her colleagues benefit daily from her presence among us."
Through her leadership, teamwork, collaboration, dedication to the success of students, Shirley Cobb cares for the health and well being of JMU. She inspires others along the way, and truly represents the "all together one" spirit here at JMU. In her 40 years at James Madison University, Shirley Cobb has impacted countless lives, and has made more of a difference than anyone may ever know. I am truly honored to present the 2016 All Together One Award to Shirley Cobb.