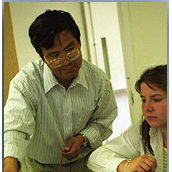 This Man's True Wealth Stems From the Successes of His Students
It is my pleasure to introduce to you all Dr. Tony Chen, who is an Associate Professor of Energy within the College of Integrated Science and Technology. Of all the people who are present this afternoon, Dr. Chen is the most unlikely person to be here. It's not because he doesn't believe in All Together One... it's not because he is too humble...and it's definitely not because his walk from the ISAT building to the Quad requires too much physical exertion (even though we all know that walk is indeed a tough one)...but the real reason why Dr. Chen almost did not make an appearance at this ceremony today is because he is missing one of his regularly scheduled laboratory sessions up at ISAT. This man is so utterly committed and devoted to teaching that he was reluctant to accept this honor today—all because he is missing the intellectual stimulation that occurs within his classroom.
As one travels through the halls of the College of Integrated Science and Technology, he or she will observe interaction between students and faculty. Within these conversations, Dr. Chen's name often recurs with a twinkle of the eye that is infectious. If you knew this man, you, also, couldn't help but smile when thinking about him! The reason why Dr. Chen invokes such positive feedback among students, some of whom don't even have him as a professor but know him through their roommate's or friend's experiences, is simply stated: he has truly mastered the art of teaching and possesses an innate passion for education that drives his daily actions. Like energy is the driving force in all of our actions day-to-day, educating students is the stimulus for fulfillment within Dr. Chen's life and serves as his lifelong passion and focus.
Dr. Chen comes from a large family in Taiwan and has been teaching here at JMU for the past four years. During a typical week, Dr. Chen can be found within the ISAT building from dawn until dusk, where he conducts classroom preparation activities and assists students with everyday life queries. On Saturdays and Sundays, Dr. Chen begins his daily activities up in the ISAT building at 6 AM, yet he still finds time to play golf and soccer and entertain with some of his Taiwanese cooking in the midst of all his commitments. The simple explanation that Dr. Chen loves his job enhances his commitment and lifelong devotion to teaching and education.
Dr. Chen is truly an amazing educator, friend and confidant. Although reserved, he possesses a strong character, a respect for others and a dedication to teaching that is so rare. Dr. Chen's interest in his students and ability to work with them on a symmetrical level captures the spirit of All Together One and shows his commitment as an educator and as a role model to others. Within his involvement at JMU, Dr. Chen takes the time and effort to get to know his students on both a scholastic and personal level, and he does so all for the benefit of his students. Kira Showalter, a junior at JMU, has these words to say about Dr. Chen:
"It's so cool that Dr. Chen is receiving this honor; it would be hard to think of a better person suited for this type of distinction. Here is something that sticks out in my mind about him. It's not a big thing, but Dr. Chen knew my name by the second week of class, after asking me only one time. In a class of 30 or so students this is a big deal because some professors take at least a month or maybe half the semester to learn your name. To me, Dr. Chen's ability to remember my name demonstrates his respect towards his students as well as his interest in them as individuals."
At the beginning of each of his classes, Dr. Chen further develops his student-teacher relationships by welcoming his students, asking how everyone is doing and then downloading his "joke of the day" for the enjoyment of the class. As his favorite part of each of his classes, Dr. Chen comments that something as seemingly small as the joke of the day allows each student to relax and shed his or her immediate worries. It is with this unique teaching style and his innate passion for learning and life that Dr. Chen has captured the hearts of all those with whom he comes in contact.
JMU is truly lucky to have as one of its educators such a strong and silent leader, who is unaware of the impact he has upon those who interact with him. Dr. Ronald Kander, the Department Head of the College of Integrated Science and Technology, attests to Dr. Chen's rare passion for life and learning through student praise on evaluations and the bright atmosphere that Dr. Chen creates among his colleagues. Like Dr. Kander, several others have commented on Dr. Chen's ability to guide students on individual destinations for success. Here, Christina Douglas captures the essence of Dr. Chen:
"In describing Dr. Chen, I would use these words: available; absolutely brilliant, yet humble; deeply caring; passionate in his role as a teacher; desires each one of his students to succeed, and he partners with us on this journey."
Seldom is there a person who does not benefit in some way from Dr. Chen's influences. Within the future, many others outside of the JMU community will be lucky enough to get the chance to interact with Dr. Chen on a variety of levels. In the coming years, Dr. Chen comments, "I would like to be able to dig up some connections that I have with previous employers to try and obtain grant opportunities, as well as internship and job-oriented possibilities for students to pursue their goals and dreams." It is evident that educating and empowering others to strive for success are at the root of each of Dr. Chen's actions and dreams in both the present and the future.
One of the great things about JMU is its mission statement—"we are committed to preparing students to be educated and enlightened citizens who will lead productive and meaningful lives." This statement, while representative of James Madison University as a whole, doesn't nearly do justice to Dr. Chen's impacts within the lives of others. Dr. Tony Chen is most certainly one of JMU's finest examples of teaching, learning and making real the commitment one makes to the quality and intent of the undergraduate educational experience. I have had the privilege and benefit of being one of Dr. Chen's students, and there are a chorus of other voices that echo with me today that students are truly at the center of his universe. While a talented and dynamic professor of energy, Dr. Tony Chen is the reason why students walk away with so much more. The true interaction between Dr. Chen and his students is indescribable. Like energy is at the center of all of our daily actions, educating others and empowering others to attain their dreams is the purpose and focus of Dr. Chen's life. Between students and this educator, there is true synergy...
The JMU community thanks Dr. Tony Chen!
Written by: Jessie Lish