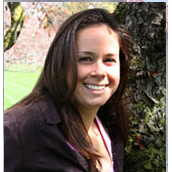 The three pillars of the JMU All Together One award are: building community, inspiring others, and working towards the common good.  Jenn Chapman is the epitome of this trio of attributes, an unsung hero in many ways.  Jenn has been involved in the JMU community throughout her time here.  She is involved in the big sister program, announces at athletic events, and volunteers her time at a radio show.  Combine that with a full-time-student workload, and you have yourself one busy lady.  However, on top of this, Jenn also happens to be a JMU track star and is the leader of all the JMU student-athletes as the Student Athlete Advisory Committee President.  As a member of this organization myself, I can personally testify that Jenn is a natural-born leader who embodies the spirit of All Together One.
Despite this high level of involvement, it is Jenn's leadership of the Save Our Sports Campaign that really makes her a standout.  She has truly demonstrated her natural-born leadership qualities through her abilities in building community, inspiring others, and working towards the common good.  While her women's track team was not among the sports cut at JMU, Jenn has contributed every fiber of her being to saving other athletes' sports.  Jenn has contributed endless hours to the campaign, sacrificing her own sport, academics, and social life.  She has organized protests and sit-ins, ordered and sold thousands of t-shirts, written emails, and made a presentation to the Board of Visitors.  Jenn even organized a trip to Washington D.C. to publicly protest the cuts.  All the while, Jenn has kept the JMU community All Together One, encouraging students and athletes alike to continue to support JMU athletics, particulary the teams cut. 
I would now like to read part of Jenn's nomination, by Natalie Moore, a captain of the women's gymnastics team.
Jenn has affected my life as I am a captain of the Women's Gymnastics Team, one of the ten teams cut.  Jenn has shown our team nothing but compassion throughout this heart-wrenching process.  She has shown us determination and a positive outlook.  She has offered us hope and helped us through this difficult process.  She has come to many of our practices and talked to us about the issue.  Jenn's track team was not even one of the teams that were cut, but she has still supported all of the teams.  She has come to every home competition that these teams have had.  She has made posters for all of the events.  At our home gymnastic meet, she proudly wore her neon green gymnastics shirt, initiated a wave among the crowd, and convinced the football players to sing, "The roof is on fire."  Jenn gave the gymnastics team the experience of "All together one."  Jenn has the personality that commands attention and she has used this leadership ability to work for such a great cause.  Even if this award is not given to Jenn, she will forever be remembered in my mind as the definition of what JMU is all about.  I believe that every member of the cut sports teams would agree with me."
Well, on behalf of the members of ODK and the JMU community, I am honored to present Jenn with the All Together One award for her ability to inspire others to build community and work towards a common good.