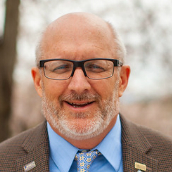 Steve Bobbitt has been a part of the JMU community since 2000, when he started at the University Recreation Center (UREC) as the Coordinator for Outdoor Adventure, eventually attaining his current role in 2007 of Associate Director for Programming. Over the course of his nineteen-year journey at JMU he has been inspiring to his team, serving as an educator and mentor to many students, and caring for all he works with.
Steve currently leads five main programming units and supervises a group of ten professional staff members and six graduate assistants. Even with such a large team Steve always makes it a priority to check in on each one of them daily to see how they are doing, what they are currently working on, and offers assistance in any way he can. He strives to make a meaningful connection with each one of his staff members. Steve has made a lasting impact on the JMU community because of his thoughtful and upbeat attitude towards his work and embodies what we stand for here on campus.  
Steve places a strong emphasis on creating meaningful learning outcomes for every single program UREC produces in order to ensure effective and high-quality thought is placed on all student offerings. He supports efforts to become involved across campus, join task forces, committees or volunteer for events. Steve himself has a strong presence on campus with his current and past committee and taskforce work; he has been a member of the JMU Assessment Council, campus coalition for alcohol abuse, campus accessibility committee, bicycle and pedestrian committee, Madipalooza planning committee and much more. 
Beyond his support for the professional staff, Steve is the chair of the student professional development fund committee. This group assists current UREC student employees to prepare for the working world by attending professional conferences and applying for certifications. He is constantly encouraging students to apply for funding because he believes in the JMU mission of creating enlightened and educated students who lead meaningful lives and because Steve wants to see them succeed. As a strong leader to both the undergraduate and graduate students within UREC, Steve shows his dedication to learning through his personalized approach with each of his students.  
Amanda Cox, Hannah Covington, Maggie Fitzsimmons, Heather Gately, and Shannon Tumelty, Former UREC Graduate assistants and students of Steve say: "Steve has been an integral part in our professional careers since our early beginnings at UREC. While working at UREC as Graduate Assistants for University Recreation, Steve consistently inspired us to follow our hearts and trust our instincts. He is a dedicated and supportive mentor that truly takes the time to get to know the people he works with. Steve thinks outside of the box to make sure his students understand concepts that not only apply in the classroom, but also in a professional setting.  Steve finds the best in every person he works with. He nurtured our strengths by encouraging us to explore them in a safe and positive way. Despite the overwhelming amount of work that Steve puts in to University Recreation, he consistently finds ways to help his co-workers while being part of the greater JMU community. Now as a colleague, we appreciate his continued support and leadership. No matter where we are or how long it has been since we have seen each other, we can always rely on Steve to help us find our own answer to a problem. We think it truly speaks volumes that each of us that have been inspired by and worked with Steve throughout our many years of campus recreation, continue to train and develop others to be more informed, accountable teammates like Steve has taught us. He is the professional we reference when we need to grow in our work, and the person we look up to, when we want to be better citizens and individuals."
One of Steve's current students Emma Kirwan says  " I cannot put into words the impact he has had on my development as a student and as a professional.  Steve has such enthusiasm for the field, for each student and for the continued growth of his coworkers.  He is a heart-centered leader who has compassion to lead others with humility.
Nominator Mary Healey finishes by saying, "Steve makes everyone feel at home at JMU and shows them that they matter.  I am challenged every day to continuously improve and provide better opportunities to my student employees and produce the best services for the students who partake in my programs. As an individual I feel welcomed, cared for, appreciated, and celebrated by Steve - he recognizes the efforts I put in and celebrates each milestone. He is genuinely a one of a kind individual and an outstanding member of the JMU community." 
Steve will you please come forward?