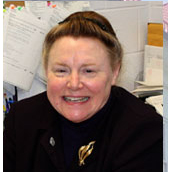 Good afternoon!  My name is Dana Bobrowski, the outgoing president of Omicron Delta Kappa.  It is with such great pleasure that I announce our next winner of the All Together One award, Sue Bauer.  Sue was nominated by 3 colleagues who work with her on the University Unions staff.  It was immediately apparent to the selection committee that anyone who "loves coming to work, always has a smile on her face, and will give hugs to whoever needs one" like Sue, was an outstanding candidate among the other amazing individuals nominated for this award.  I would like to read aloud some excerpts from her nominations, and I feel so honored to be speaking about someone who is SO deserving of this award and SO deserves to finally be recognized for all the behind-the-scenes work that she does. 
Sue Bauer is the type of woman who cares about the little things in life, like how she keeps a big dish of chocolate on her desk.  Everyone who comes by knows it is the goodkind, not the "cheap" kind.  It's there for anyone who is having a bad day, craving sugar, or who just may need a pick me up.  But lots of people have chocolate on their desks, so why is this special?  Well, what makes Sue noteworthy is that she is so selfless – she is allergic to chocolate and can't eat it herself.  She goes out of her way just to brighten the day of each person who comes into her office.
Simply put, Sue is not only an amazing employee of James Madison University, but an amazing mentor, friend, and human being as well.  Her official title is the Executive Secretary to the Director of University Unions.  But anyone who knows her, and what she does for JMU, will tell you that she does much more than what her title implies. 
As an employee, she performs even the most routine tasks with the utmost in care for other people and gives a selfless commitment to JMU.  The large department where she works, University Unions, encompasses many different areas including Events and Conferences, University Information, Taylor Down Under, the Welcome Center, Off-Campus Life, and all of Student Organization Services.  It was immediately clear that being an assistant to such a large department in and of itself is a huge task.  One nominator said, "At departmental meetings Sue is there with tons of information, making sure that everyone gets the much needed message and keeps us on the same page and inspires all those present....  And when it comes to travel for the UU staff, Sue diligently takes care of all travel arrangements, addressing anything you can think of that involves planning travel and schedules of conferences."...which, for the entire UU staff can be quite numerous and tedious... but she is known to be quite the whiz at finding online travel deals, you know!  
Omicron Delta Kappa is also one of the many, many organizations that Sue helps to move forward in her daily work.  She is literally the backbone of the society and unbeknownst to her, she was actually helping to plan for this ceremony without even knowing she had won.  The nominations are anonymous to the selection committee,  so imagine our surprise when we realized we had chosen her as a winner!  We had no idea that "# 20" of the nominations was Sue because we had no idea she even does half of the tasks she does!  What we do know is that from reserving rooms, sending emails, and just generally being the most important support system of the society, ODK would not exist without Sue.
As a mentor, everyone who crosses her path or is in need of her insight and expertise is given her undivided attention and consideration until their problem is solved.  One of Sue's colleagues said, "Sue was significant in making me feel welcome, competent, and valued as the new Student Affairs professional.  Furthermore, it was as if she tucked me under her wing to guide and advise me, always gently, always with a welcome smile and familiar humor that made a world of difference...and I wholeheartedly tell you, the woman still appears to be indefatigable." 
As a friend, her remarkable warmth is abundantly apparent to anyone who meets her for the first time.  One of her nominators, who used to be the manager of Madison Grill, said this of her former employees who were servers at the restaurant: "The student service personnel of Madison Grill were always eager to wait on Sue because she was so kind and generous in her interactions with them, something not always expected from customers."  Another friend said of Sue, "She really goes out of her way to help other people.  She is the first to volunteer for any situation that arises; will put aside what she's working on to help you with a question; brings cakes and cookies for the student employees; and celebrates each milestone in her colleagues' lives.  She is a bright and cheerful Mother Earth, as proud of the people she works with as she is her own grandchildren.  She has a huge heart and cares deeply about how others are doing, recognizing instantly if someone is feeling down.  She provides a listening ear and a soft shoulder when someone needs comforting."
There is also one other special thing that Sue does that really sets her apart from other employees, and it something that no one would even think of.  Sue coordinates the memorial services for students who pass away while attending JMU.  One of Sue's nominators said this about the process: "Working with people in grief situations is always difficult, but Sue is able to meet each person where they are at, work through the administrative paperwork, and produce touching, memorable, moving tributes unique to each student.  To do this she needs to identify friends and family members and help them through a planning process, learning about the deceased along the way.  Sue is an amazing listener and hones in on characteristics that create a full picture of who the student was, why their life was important, and what made them special to those they knew.  The result is a beautiful ceremony that allows people to both grieve the loss and celebrate the life at the same time."  She is truly the behind-the-scenes woman who does it all.
I would just like to close with some things said about Sue that pretty much sum up this incredible woman:
"Sue makes me feel welcomed, listened to, valued, and appreciated.  Her positive cooperative, collaborative, and caring manner of reaching out to all who come to the office enhances the caring community spirit not only for University Unions but to the JMU community as a whole."  
"Whether she is power walking across campus or relentlessly compiling one of her infamous travel folders, she is a force of nature: imperturbable and resilient."  
And finally, "Sue is big smiles, happy greetings, and caring words.  I cannot think of someone who better exemplifies the JMU values of collaboration, respect, excellence, and integrity."
Once again, we are so honored to be able to recognize Ms. Sue Bauer with this All Together One Award.  Congratulations!