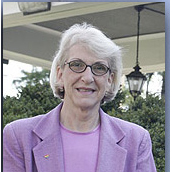 Violet represents the best of what a faculty member can be. She is open, accepting, and collaborative, and she is always willing to listen to and support others. She is committed to represent all constituencies. She has a genuine and caring mode and manner and she can work with all groups of people. She values people for themselves so that they don't have to be in a role when they are with her. Teresa Gonzalez, Associate Vice-President for Academic Affairs, summed up Violet Allain's personal and professional qualities that make her so outstanding.
In representing the best of what a faculty member can be, Violet has a long list of accomplishments in a wide variety of areas. She came to JMU 29 years ago in the Department of Secondary Education, and she has been a consistently vital member of the College of Education . Steve Fairchild, Associate Dean of the College of Education , said Violet's appreciation and promotion of diversity in the College of Education have been invaluable and have played out well in so many ways. Not only is she an outstanding teacher, supervisor and mentor, but she also has made significant contributions to the curriculum and to the lives of students. Last year, the College of Education selected Violet to be their first-ever faculty graduation speaker. Steve said, Although limited to just two minutes, Violet's speech was very moving and captured for faculty why we are here and who we all are. She represented us wonderfully.
In addition to her work in the College of Education , Violet serves as Associate Dean of the College of General Education . She spends hours each week meeting with students, faculty, administrators, and staff members. She works diligently to help students work out problems fulfilling their General Education requirements, while she upholds the principles underpinning the General Education program at JMU.
Violet fills a remarkable number of roles at JMU. More than one person has called her The Committee Queen because she chairs or serves on most important committees on campus, from search committees for faculty and administrators to faculty governance committees to speakers committees.
One special project for Violet is Safe Zones. About ten years ago, Violet started a program to train faculty and staff members who were interested in providing a safe space for students, staff, and faculty to discuss issues of sexual orientation. Her coordination of Safe Zones has involved such activities as organizing training sessions several times each year, maintaining an active correspondence through an e-mail distribution list, sponsoring social events for members, writing letters advocating for the rights of the GLBTQ community, meeting with the JMU Board of Visitors, working with the students in Harmony, writing grant proposals, and attending meetings of local school boards. As Chris Gatesman, Associate Director of Residence Life, affirmed,  If you go to the dictionary and look up the word "Ally" you should find a picture of Violet Allain. Violet has demonstrated again and again that she is passionately committed to promoting justice and equality for all people and consistently walks in solidarity with members of the
Lesbian, Gay, Bisexual and Transgendered community. Those of us who identify as GLBT, are very much aware of the challenges our allies must face if they choose to promote our causes. Violet does not let these challenges hold her back from working for change and equality. All of us at JMU are the beneficiaries of her hard work.
Violet also maintains an impressive level of involvement in professional organizations. She regularly presents papers at conferences, serves on committees in professional organizations, and publishes scholarly articles. She is much in demand throughout the country as a speaker for Phi Kappa Delta on the topics of diversity and future studies.
Violet supports an amazingly wide variety of activities at JMU. She has participated twice in JMU's Semester in Florence program, was the first Coordinator of the Women's Studies minor, has been a key participant in the Women's Caucus, and coordinated the Freshman Seminar program. You are as likely to see her at the opera as at a women's basketball game. She regularly attends musical concerts, theatre performances, Visiting Scholar lectures, dance concerts, and athletic events.
Off-campus, Violet is an energetic volunteer in church and community activities. At Blessed Sacrament Catholic Church, she serves as a Eucharistic Minister, has been a member of the Parish Council, and participated on the committee to plan an addition to the church. She volunteered at Valley Voice, reading for the radio service for sight-impaired people in the area. She even went to the Spotswood High School prom, serving as a chaperone with her husband, Mike, who teaches at Spotswood High School and at JMU.
While it might be difficult to understand how Violet can accomplish so much, Linda Halpern, Dean of General Education, has some insight into it. Why is she given a longer day than the rest of us? She accomplishes so much more than the rest of us that she must have a 30-hour day. The early start to Violet's day might also help explain her amazing productivity. Sherry Hood, University Registrar, says I can't count the times that I came into the office at what I think is an early hour and saw e-mail messages that Violet sent at 4:30 a.m. All of the e-mails that I have received from her have been sent at 4:30 and they are always upbeat. How can anyone be so upbeat so early in the morning?
Violet's commitment has been passed on to future generations, through her students and especially through her daughter, Ana, who now lives in Atlanta and has served on her company's diversity committee. Mom has always taught me to look outside the confines of my own surroundings, whether that be exploring other cultures or volunteering with a local organization. She has always encouraged me to be inclusive of everyone, no matter what others think.
With grace, style, humor and energy, Violet deals with life the way that she swims. She dives in, keeps moving even if she is in over her head, and doesn't quit until she reaches her goal. The JMU community would like to show our appreciation by presenting Dr. Violet Allain with the All Together One Award!