Joshua Dixon
Class of 2023
Major: Media Arts and Design
Minors: Sport Communication
Hometown: Mechanicsville, Virginia
High School: Lee-Davis High
Highlights: Played lots of sports before JMU, including lacrosse and volleyball; started out as an economics major before finding his true love in media arts and design; dream goal is to go to work for ESPN or the NFL Network
Josh Dixon thought he wanted a career in economics.
Once he found out about BreezeTV, the multimedia arm of JMU's award-winning Breeze newspaper, Dixon's plan changed course for good.
Don't be surprised if a result of that change may one day lead Dixon to a national sports TV anchor desk.
---
BreezeTV sounds like the real deal.
BreezeTV is a student-run news organization. We have reporters that go out every week, get stories, get footage, put together videos, or packages and stuff that go live. We have a live show every Friday 3:30-4 p.m. right here in the studio that goes live on our Facebook page, and then afterwards, we'll go on the website. 
Sounds like a lot of good hands-on learning.
It is a lot of hands-on learning, especially if you want to be broadcast journalist. This is a great opportunity, and I feel better prepared now graduating next year with having done BreezeTV 
How come?
You learn a lot of skills—not only technical skills with the camera and production side, but also those people skills and reporting skills of having to go out and get stories and pitch stories and find these things happening in community. It's obviously really cool to do a show every Friday. 
"I love talking to people and love making people smile and laugh. Being part of BreezeTV kind of helped me explore that more."
You're loving the total experience, aren't you?
This is an actual news station. You get that real-life news station experience, so you're better prepared when you go into the field. And I definitely think it helps because, if you look at some of the anchors and people that have gone through here, they all get jobs afterwards. And they're working at TV stations right now.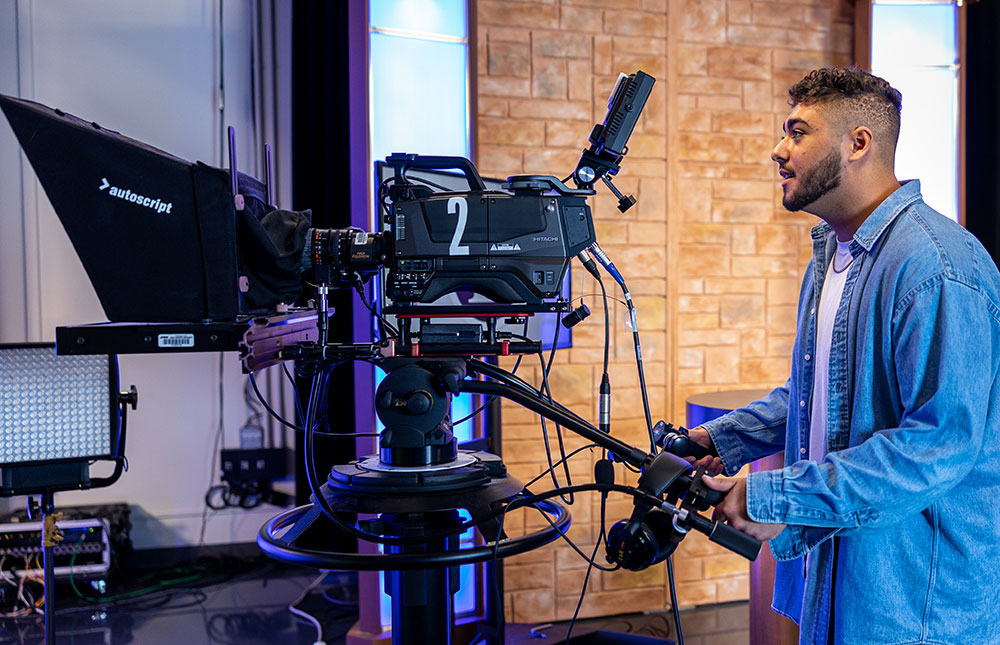 Do you remember your first day?
I came in on a Friday. I talked to the sports guy, and he asked me to actually write up a story about the women's lacrosse team because I told him I played lacrosse. So he paired me with another reporter and we wrote a lacrosse story that actually aired on that show that day. 
Wow. On your first day?
Yeah. My first day here. Even though I came in a little overwhelmed, we just got right to it and, with some help, he ended up putting the story on TV. That was really nice. 
How did your first solo shoot go?
That's a funny story. I only had camera training once and I only filmed one short thing. When I got to the shoot, I had to call my news director and ask all kinds of basic questions. I mean really basic questions. She was so patient with me and walked me through everything. So yeah, after that I filmed every JMU football game but one the rest of the season.
Did you get usable footage from that first shoot?
I did, actually. I also brought my tripod that first day. I got yelled at by the head communication guy upstairs. He's like you can't have a tripod on the field—so I went back to the car and grabbed the shoulder mount. But it was good footage. I had some professors tell me that it was pretty good. It was nice.
Do you remember the first time you saw the Alison Parker Studio?
I didn't realize we would have a studio like this. I wasn't expecting a whole lot. I mean, I was thinking something like a regular classroom. So to come here and see this studio, and the production room really where I was like, Oh my gosh, this is high quality stuff. It was really insane to see.
Have your problem-solving skills improved?
I think my problem-solving has definitely improved with all the hands-on stuff because you don't have a choice, you know, especially with all the equipment. You need to do your homework for these projects because they really put you out into the field and want you to experience it. And so you kind of have to learn that you just have to be ready to figure it out for yourself. 
Is it the same in your Media Arts and Design classes?
I definitely think being being part of SMAD with all the projects and hands-on learning has definitely helped me hone my problem-solving skills. Absolutely no doubt that I am better because of what I'm doing in class and also out in the field.

Ready to explore more? We are so excited to help you learn more about our beautiful campus! Please join us for an in-person information session, a guided tour, or a self-guided tour. We look forward to welcoming you to campus.