Aliza Matthews
Class of 2023
Major: Dance
Minors: Honors; Medical Spanish
Hometown: Kinston, North Carolina
High School: Arendell Parrott Academy
Highlights: JMU Student Ambassador; vice president of Dance Theater; JMU Student Athlete Support Services tutor; Madison Award for Academic Excellence scholarship recipient; co-founder of the nonprofit Dance in the Rain.
Aliza Matthews knows the magic of dance.
Her plan is to share dance with as many different groups and in as many different places as possible.
With the combination of her significant dance experience and her servant soul, it seems a safe bet that lots of other people are going to find their hearts moved and their lives improved.
---
Your Dance in the Rain nonprofit with Caroline Christie sounds amazing.
We basically want to give the resources of dance and dance therapy to communities who normally wouldn't have access to them. For example, we've actually started our own Dance for Parkinson's class on Wednesdays. So we have our JMU-affiliated one we help with on Saturdays, and then we teach just the two of us over Zoom on Wednesdays now.
Has it been fulfilling so far?
It's been great. Yes. And another thing that we're interested in is working with children with special needs. I've done that a lot throughout my life, it's been really rewarding. It's one of the reasons why I became interested in occupational therapy.
Is there an overreaching plan for the nonprofit?
Our ultimate goal is by the time we graduate will be able to continue our Dance for Parkinson's classes wherever we end up, but also just going into whatever communities we end up in and finding places that we can teach, whether it be group homes, whether it be in schools or special education classes.
How did you get started with Dance for Parkinson's?
I started my freshman semester as a student assistant. My main job at that point because I was still young and naive was leading breakout groups. We would get in breakout and I would encourage people's creativity and give them inspiration to create movement. It just grew my sophomore year I applied for a grant that gave me money to go through training with the dance for Parkinson's founding program in Brooklyn.
"I really liked my small town, but I knew there was something bigger out there for me. Once I came here and realized that you can find smaller communities within JMU, it worked out perfectly."
Talk about choosing JMU.
My mom and I came to see a friend of mine perform on campus at The Forbes Center. I walked the day of the show just to explore. I hadn't emailed any professors and hadn't really officially told anyone I was here. I ran into Professor Emeritus Kate Trammell, and she starts talking to me about this program that she leads called JMU Dance for Parkinson's Disease. And I was like, in that moment, this my school— and I chose JMU because of that.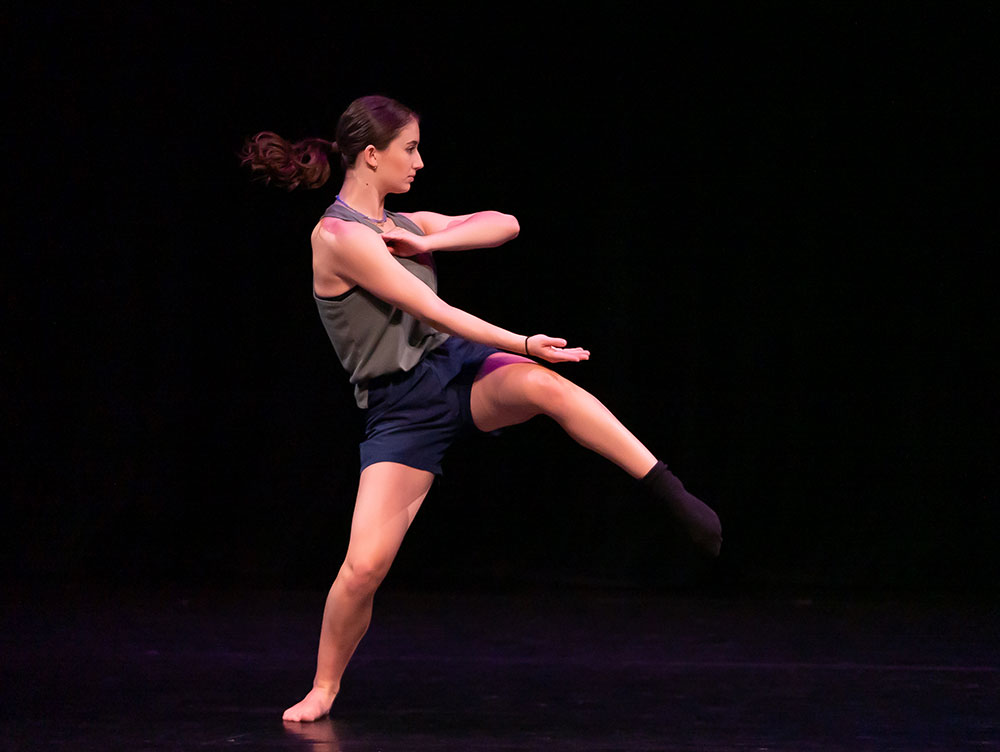 That's some cool attention right there.
She ended up introducing me to other professors who said put on some dance clothes, just come take class with us. And so that's just what I did. I mean, they had no idea I was coming in and they just welcomed me. And so I've always said I felt like a Duke before I even was a Duke.

Ready to explore more? We are so excited to help you learn more about our beautiful campus! Please join us for an in-person information session, a guided tour, or a self-guided tour. We look forward to welcoming you to campus.