Mya Baptiste
Class of 2022
Major: Finance
Minor: Honors Interdisciplinary Studies
Hometown: Centreville, Virginia
High School: Centreville High
Highlights: Co-founder and current president of JMU Women in Business, a group aimed at helping female business majors network and feel connected; first female president of Madison Venture Group, JMU's venture capital club; treasurer for Black Student Alliance; treasurer of DECA; vice president of Society of Real Estate; Scholarships include Centennial Scholar, and the Joanne and Alexander Gabbin Scholarship.
Mya Baptiste is a force.
Her mind is curious. Her will is fierce. Her heart is golden.
Since she was a middle-schooler, Baptiste has had a Wall Street career in her sights. Spend five minutes with her, and it is of little surprise to learn that she landed her first dream job before she even finished her JMU undergraduate degree.
---
Let's hear about this Wall Street job.
I'm joining Citi Group upon graduation. I was actually working with Citi's Impact Fund this past summer. That was just such an amazing opportunity. And that's definitely something I would like to pursue maybe after I gain some experience in traditional investment banking. And I also see myself as an entrepreneur in the future, hopefully operating a fund like this myself.
Talk about the basics of the Impact Fund.
Citi's Impact Fund is a $200 million fund launched in 2020. They invest in double bottom line-owned businesses—women- or minority-owned. And the businesses they invest in are startups in their seed stage all the way to early-stage investments. And basically, these companies are being invested in and selected because they are able to generate both a financial and social return for society.
Can you provide an example of one?
Citi's fund is made up of about a little over 20 companies that they've invested in now. There's one in particular called the Mom Project based out of Chicago. And so basically, they strive to provide women with the resources and community they need to re-enter the workplace after maternity leave successfully, because when women may not be provided with such resources or the community to rely on, that's contributing to the gender wage gap. The Mom Project is almost like the LinkedIn of women returning to the workplace.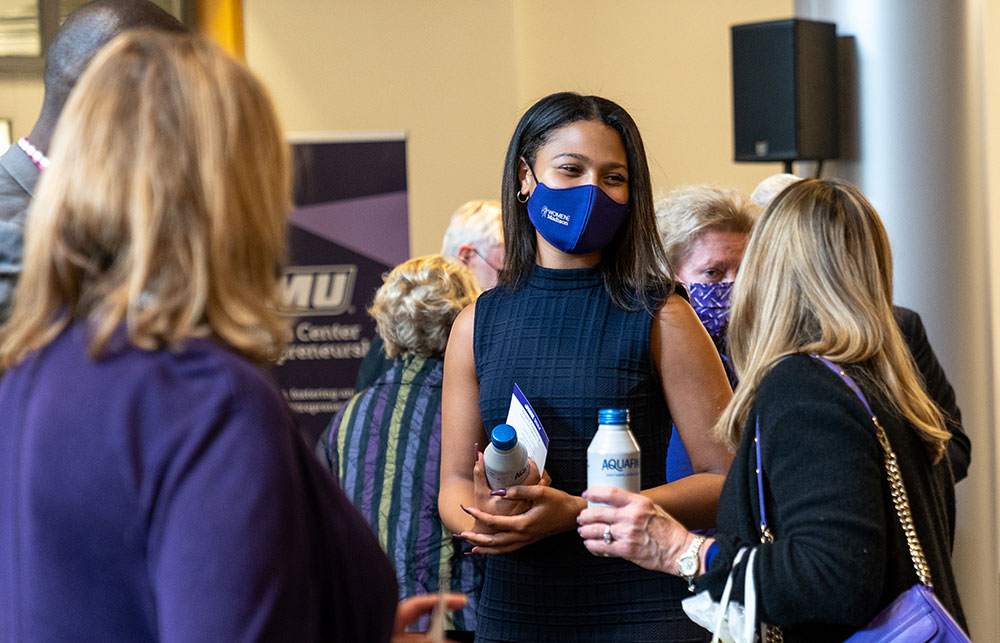 Have you already started paying it forward?
Last summer, I volunteered with the nonprofit Investing Girls, which aims to educate the next generation of underrepresented young women who are in high school and provide them with the knowledge they need to be financially literate or have that knowledge to positively impact their families and the generations to come.
"Something I'm very passionate about is how you can take $1 and positively impact or influence someone's life, whether that's through teaching them the importance of how to save their dollars, how to spend them, but also investing in companies that are able to make just as great returns for society, too."
Was JMU rigorous enough academically?
Sure, I've had some classes that I excelled in, but I've also had classes that have been tough. And that's OK. That's all part of the experience. It's really showed me the importance of resilience and being able to adapt, leveraging office hours when I need to.
Did you know what you wanted to do from the start?
Ever since I was in eighth grade, I always knew I wanted to work on Wall Street, get into investment banking. I even have my journals in my basement at home where your teachers have had you writing out your goals and that's what I wrote for myself. I sort of knew that that was going to be the path for me. I didn't really look elsewhere.
Did you get help at JMU when you needed it?
A big thing I wanted to prioritize in choosing a school was being in an environment where the professor can be attentive to you, answer any questions you might have as well as be available. JMU came up big in this area for sure.
#72
BEST PUBLIC COLLEGE IN THE U.S.
—U.S. News & World Report
* In the printed version of JMU's Admissions Viewbook, this ranking was misprinted. 

Ready to explore more? We are so excited to help you learn more about our beautiful campus! Please join us for an in-person information session, a guided tour, or a self-guided tour. We look forward to welcoming you to campus.