WRTC Alumni News and Events
Distinguished Alumna Gives Welcome at the WRTC 2017 Awards Ceremony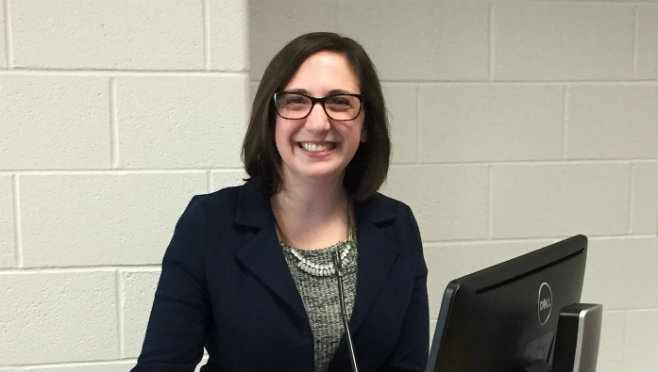 Lisa Shea Mundt ('11) ('13) gave an intelligent and inspiring welcome to those attending the WRTC 2017 Award Ceremony and Reception.  Threaded with her signature wit and excellent delivery, Lisa shared how the rhetorical principles she learned in the WRTC program directly apply to her job as a proposal consultant for government contractors. She also stressed the importance of building significant connections with peers through networking.  There were nearly 100 people in attendance at the Awards Ceremony, including student award winners and their families, the Dean and Associate Dean of the College of Arts and Letters and a great many of our faculty and invited colleagues from across campus.  The ceremony recognized the Whitten Maher Memorial Scholarship winners, the winners of the Madison Writing Awards, students whose work was selected for publication in Lexia, and those receiving outstanding student awards. 
Ms. Lisa Shea Mundt is a native of Fairfax, Virginia.  As a Lean Six Sigma Green belt, she currently acts a Senior Proposal Manager/Writing Consultant where she applies her six years' of experience in formulating strategic, comprehensive, and compelling proposals for small and large Government Contractors. In addition to helping clients win multimillion dollar proposal efforts, Ms. Mundt trains clients on industry best practices as an AOC Key Solutions Process-Trained Facilitator who is experienced in training clients on Business Development, Capture Management, Proposal Management, and Proposal Oral Presentation Coaching. She currently serves as Chairperson of WashingtonExec's Rising Star Committee and is a member of their Federal Business Council.  While a student at JMU, Ms. Mundt was the Production Manager of "Dame Theory," a WXJM Feminist talk show forum, as well as a Radio Host on a morning Jazz Show.  Ms. Mundt also spent a year teaching WRTC 103 through the lens of popular culture. 
To see Lisa's full welcome, click here. 
Do you have news to share?
We'd love to hear about it!
Keep us up to date by sending an email with your news (and a photo if possible) to Kristin Knapp knappkl@jmu.edu.