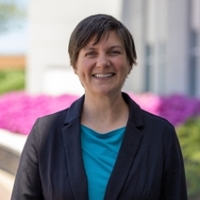 Education
Ph.D. (Curriculum Studies & Teacher Development) Ontario Institute for Studies in Education, University of Toronto
M.Ed. (Community Arts- Specialization in Theatre) Lesley University
B.A. (Arts Education & Social Change) Vassar College
Professional Experience
Rhoades has worked as an applied theatre and drama in education practitioner, teacher, and researcher with young people from Grade 1 to the graduate level for 15 years. Currently, she is the Theatre Education Coordinator and Theatre Recruitment Coordinator with the School of Theatre and Dance. Her research focus is on working with local refugees, asylum-seekers and other newcomers in partnership with 5 community organizations. Last spring, she co-facilitated a theatre program with refugee women to help them build confidence in preparation for the US citizenship test. This year, the new Community-Engaged and Activist Theatre class is collaborating with newcomers from Cameroon, China, El Salvador, Honduras, Kurdistan, and Nepal. For the Equity, Access and Inclusion in Education and Performance course, her students created a podcast consisting of interviews with BIPOC theatre artist-activists from areas such as Uganda, England, Singapore, Colombia, NYC, South Africa, Australia, and Taiwan.
Rhoades served for two years as Assistant Professor of Applied Theatre at Brock University in Ontario where she taught undergraduates training to be drama educators in schools and theatre artist-educator-advocates in community settings. Rhoades engaged in multiple collaborative projects with the Niagara Folks Arts Multicultural Centre, including a partnership with Niagara PRIDE utilizing Forum Theatre in the Centre's LGBTQ Inclusion Campaign with Social Issues Theatre for Community Engagement students. Rhoades has also led professional development trainings on anti-racist and cross-cultural drama pedagogy for a variety of education audiences, including the Dramatic Arts Department at Brock University, the Niagara Catholic District School Board, and community children's theatre company, Carousel Players.
Rhoades trained teacher candidates in the Masters of Teaching program at the Ontario Institute for Studies in Education on integrating drama education techniques in cross-curriculum praxis to prepare candidates for working in Toronto K-12 schools that hold a degree of inclusive excellence. Rhoades directed and facilitated devising projects in public schools, youth-serving community organizations, and through her own doctoral research with marginalized youth. Rhoades served as Education Programs Manager for The Boch Center (previously named Citi Performing Arts Center/The Wang Center) and as an AmeriCorps Teaching Fellow with Citizen Schools, both in Boston. Rhoades trained high school youth in acting techniques and directed five of their original performances, as well as directing performances in drama residencies at ten public elementary and middle schools. Rhoades received acting training in London from the British American Drama Academy and continued performing as a member of Playback Theatre companies and an improvisation troupe in Boston.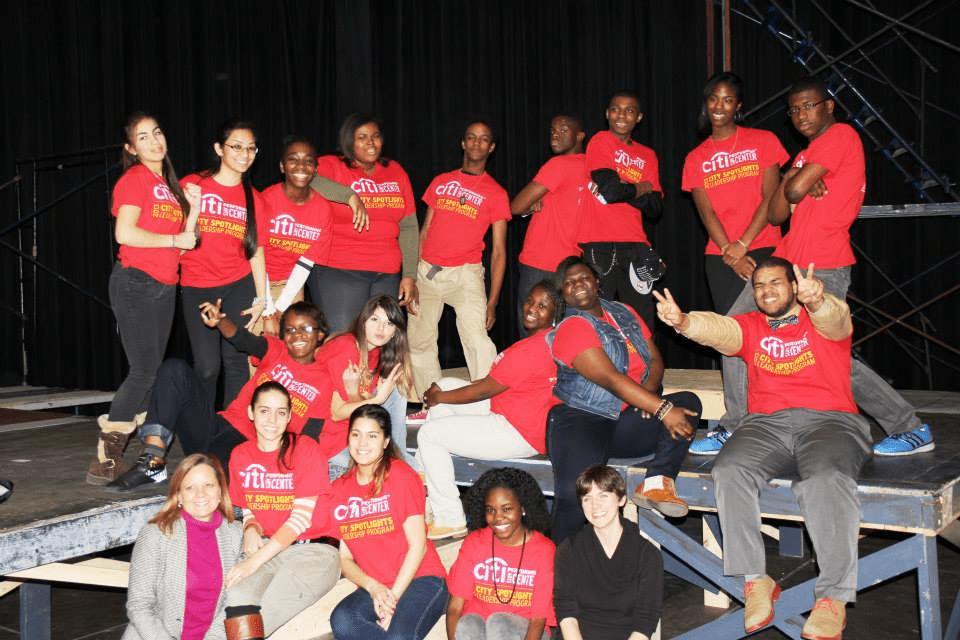 Teen Leadership Council developed and directed by Rhoades, Boston, 2013
Teaching Philosophy
Training drama educators to support students in developing self-empowerment and care for others, and in discovering their creative potential is a deep passion of mine. Theatre education necessitates attention to study topics of inclusive excellence such as intersectionality and solidarity in order to prepare teachers to engage and inspire learners in this complex world. My analytic lens is framed by critical theory and influenced by the historical and contemporary contexts of issues of racial, economic, social and environmental justice that impact marginalized communities. I engage in a pedadogy of resistance, which I define as an educational and political strategy that privileges counter-hegemonic knowledges, particularly the experiential knowledge of marginalized folks. This pedagogy of resistance guides my work as an educator as I aim to identify and disrupt power dynamics, and to nurture and mobilize collective agency and efficacy through promoting radical imagination, solidarity, and creative freedom to envision and enact a more emancipatory society. I share my analytic lens with students to enhance their understanding of critical theory and their ability to apply these logics in the classroom and community through theatre. I also challenge students to utilize their theoretical understandings and pedagogical skills, and to collaborate with their own theatre students, in imagining alternative futures and transitional action steps to achieve collective liberation for all peoples.
Research
Cross-Cultural Community-Building and Applied Theatre: A Creative Collaboration between University Students and Newcomers
Course-based collaborative research interrogated the impact of cross-cultural facilitation training and execution with newcomers and refugee participants in student teacher development. Engages with the question of how experience as participants in theatre teacher training impacts identity formation, specifically a sense of cultural resilience, in newcomers and refugees.
 Equity in Cultural Transitions: Theatrical Exploration of Transnational Journeys
Community-based action research interrogated the potential for ensemble devising to serve as a site for cultural sustainability, social resilience, and equitable acculturation with refugee and newcomer adults to the Niagara region in Canada.
 Youth Artists for Justice: Examining Participation in Social Movements and Envisioning Futures through Applied Theatre
Doctoral research examined how racialized, socioeconomically under-resourced secondary school-age youth in Toronto conceptualize their current and future roles within contemporary social movements and the larger political sphere through ethnodrama.
Reflections of Tomorrow original performance by doctoral research participants, Toronto, 2016
Arts & Youth Leadership Development in Action: Maximizing Potential through Youth Performing Arts Programs
Participatory drama-based research study with marginalized youth artists in Boston
Scholarship
Gallagher, K. Rhoades, R. Bie, S and Cardwell, N. (2017). Drama in education and applied theatre, from morality and socialization to play and post-colonialism. In G. Noblit (Ed.), Oxford Research Encyclopedia of Education. New York: Oxford University Press.
Gallagher, K., Starkman, R., & Rhoades, R. (2017). Performing counter-narratives andmining creative resilience: Using Applied Theatre to theorize notions of youth resilience. Journal of Youth Studies, 20(2), 216-233.
Rhoades, R. (2018). Intersectionality and solidarity in curriculum-making theatre encounters with marginalized youth researcher-artists. Journal of the Canadian Association for Curriculum Studies, 16(1), 185-198.
Rhoades, R. (2019). Inciting solidarity through plural performativity and pedagogical aesthetics in ethnodrama with marginalized youth in Toronto. ArtsPraxis, 5(2), 129-143.
Rhoades, R. (2021). Ethnodrama of projectivity as hopeful pedagogy in envisioning non-dystopic futures with youth. Research in Drama Education: The Journal of Applied Theatre and Performance.
Rhoades, R. (2021). Nurturing hopeful agency: Applied theatre pedagogy in collaboration with social movements. Theatre pedagogy & climate crises. New York & London: Routledge.
Rhoades, R., & Pitts, L. (forthcoming). Abolition in Prisons and Teacher Education through Theatre of the Oppressed: A Conversation between Practitioners & Participants. In (R. Eckert and L. Benge, Eds.) Into Abolition: A Guidebook for Liberatory Theatre-making Practices. New York and London: Routledge
Rhoades, R. & Rodricks, D. (2020). Toward a creative solidarity: Implications of a drama pedagogy for the radical scholar-practitioner (pp. 145-166). In K. C. Schmitz and N. Grant (Eds.), Interrupting, infiltrating, investigating: Radical youth pedagogy in education. New York: DIO Press.
She has presented at more than fifteen conferences in areas of education, theatre, and anti-oppression, including at the International Drama in Education Research Institute in New Zealand and Singapore, the International Drama in Education Association in Iceland, as well as the American Educational Research Association in Chicago, New York and Washington, DC.
Grants and Awards
Faculty Senate Mini-Grant, JMU, 2023
College of Visual and Performing Arts Development Grant, JMU, 2022-2023
IDEA Grant, Office of Access & Inclusion, JMU, 2022-2023
Provost Diversity Curriculum Grant, JMU, 2022
Featured Artist, Suitcase in Point, Art of the City Campaign, 2021
Innovation in Teaching and Learning Grant, Brock University, 2020-2021
Social Justice Research Institute Grant, Brock University, 2020
Doctoral Completion Award, University of Toronto, 2018-2019
National Ada Slaight Drama in Education Research Award, Young Peoples Theatre, 2016-2017
Connaught International Doctoral Scholarship, 2014-2019
Diane Shannon Price Student Leadership Award, Lesley University, 2013