Dr. Liam Buckley: Professor of Anthropology, Department Head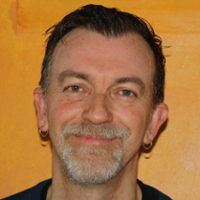 Education
BA, University of Essex ( UK )
MA, University of New Mexico
Ph.D., University of Virginia
Teaching
Cultural Anthropology, History of Theory in Sociocultural Anthropology, Ethnographic Genres and Methods, Visual Anthropology, Ethnographic Film "Mindfulness and Anthropology".

Research
Africa, India, Colonial Discourse and Postcolonial Studies, Aesthetics, Material Culture, Visual Anthropology, Anthropology of Art, Photography, Mindfulness.
Publications
Fotografía y foto-elicitación después del colonialismo (trans Inés Plasencia).  In "El colonialismo a través de la fotografía: nuevas perspectivas y debates."  Brumaria (Spain) Forthcoming
Paint, Cement, Photographs:  On the Endurance of Imagery in Western Kenya.  In Critical Arts:  South-North Cultural and Media Studies.  Forthcoming
2014 Photography and Photo-Elicitation after Colonialism. Cultural Anthropology. 29:4
David Bowie is… (Exhibit Review). American Anthropologist. 116 (3): 653-655.
2013 Portrait Photography in a Postcolonial Age: How Beauty Tells the Truth. In Portrait Photography in Africa. Elizabeth Cameron and John Peffer,eds. (Indiana University Press)
Cine-film, Film-strips and the Devolution of Colonial Photography in The Gambia. History of Photography 34.2:147-157 (2010)
Photography, Elegance and the Aesthetics of Citizenship In Visual Sense: A Cultural Reader. Elizabeth Edwards and Kaushik Bhaumik , eds. New York: Berg Press (2008)
Gridwork: Gambian Colonial Photography. Critical Interventions: Journal of African Art History and Visual Culture 2:40-55 (2008)
Studio Photography and the Aesthetics of Citizenship in The Gambia In Sensible Objects: Colonialism, Museums and Material Culture Elizabeth Edwards, Chris Gosden, and Ruth B. Phillips, eds, 61-85. New York: Berg Press (2006)
Just Showing a Movie? Anthropology News 47(5):64 (2006)
Objects of Love and Decay: Colonial Photographs in a Postcolonial Archive. Cultural Anthropology 20(2): 249-270 (2005)
Some Notes on Posing in The Gambia. Anthropology News 46(4): 40-40. (2005)
Self and Accessory in Gambian Studio Photography. Visual Anthropology Review 16(2):71-91 (2001)