Sociology and Anthropology: Field Programs
Archaeology Field School
Summers, ANTH 494, 5-6 credits
The summer archaeology field school is designed to give students a level of competency in the archaeological field process. The course includes intensive instruction in site sampling, excavation, and mapping. Emphasis is given to documentation of stratigraphy and soils, record-keeping, and field photography. Often, students are introduced to the process of geophysical survey. In recent years the field school has been held in Georgia at the Native American province of Capachequi, famously visited by the Spanish conquistador Hernando de Soto.
For information contact Dr. Dennis Blanton, blantodb@jmu.edu
2019 JMU Archaeological Field School Students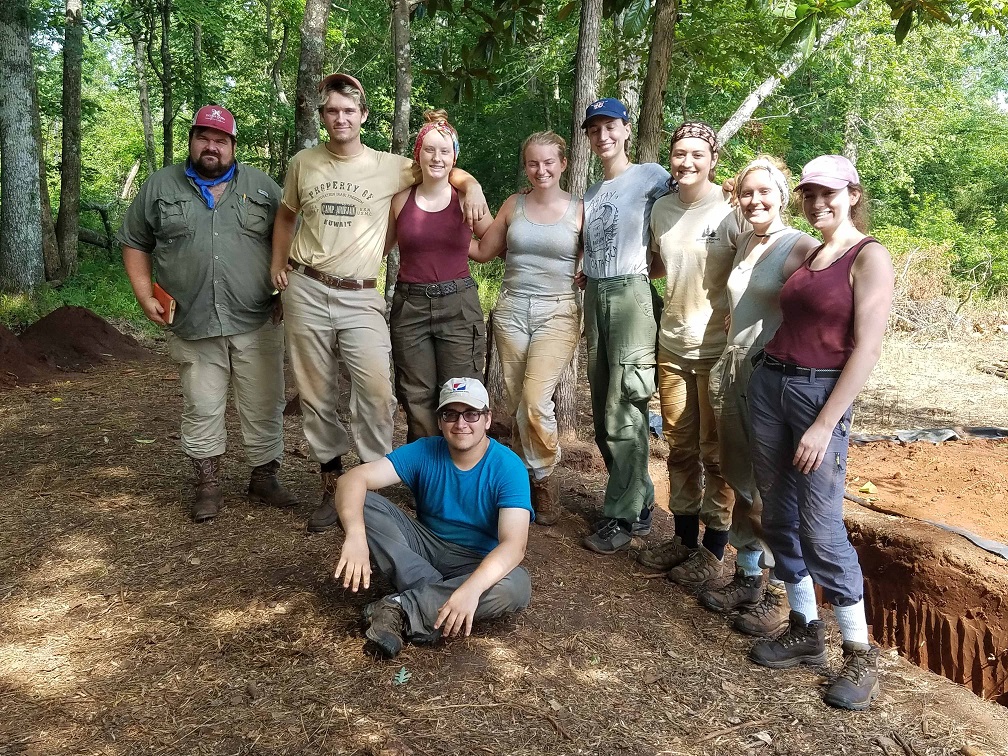 Ethnographic Experience in Dominica
Alternative Spring Break (ANTH 389)
This is an upper-level anthropology course that centers around JMU's Alternative Spring Break (ASB) trip to the Caribbean island of Dominica (not the Dominican Republic). Students will be immersed in the culture of Dominica through meetings and experiences with our hosts and through participation in cultural and eco-tourism activities around the island. Before departing, students will carry out extensive background study of the island's history, culture, and languages, and will formulate individual projects. While in Dominica, students will explore their topics of interest through observation of and first-hand participation in everyday life in home, school, work, and community settings, including a service-learning project with our Dominican partners.
This 3-credit course is offered every two years during the spring semester and requires permission of the instructor.
For more information, contact Dr. Amy Paugh at: paughal@jmu.edu
JMU's Montpelier Archaeology Field School
Summers
The Archaeology Field School at James Madison's Montpelier is 4 weeks long, and is offered as a 4 credit-hour course. 
For more information contact Dr. Julie Solometo
solomejp@jmu.edu
 and visit the
Montpelier website.
Seville Summer Program
Seville: Global Sociological Perspectives (SOCI 110/SOCI 391/UNST 390)

This 3-credit course provides a comprehensive analysis of Seville's social issues. Students will engage in classroom-based learning, experiential learning, and field experiences.
SOCI 110:  Social Issues in a Global Context (that fulfills the GenEd cluster 4).
Students who have taken (SOCI 110) can enroll in either:
SOCI 391:  Study Abroad (that fulfills the Sociology Minor requirements) or
UNST 390:  University Studies (as an elective).
Situated in the Andalusian region of Spain, Seville provides an ideal location for exploring sociological issues from a global level perspective. Despite having undergone a significant transformation from an agrarian economy to the development of high-tech, service, and tourism industries, Seville maintains its unique identity in the Iberian Peninsula. In this program, students will visit local farming communities, museums, locations of archaeological and historic significance along with touring high-tech art restoration/conservation labs. In sum, participants will gain an in depth understanding of the various macro sociological processes that shape Seville and its inhabitants.
For more information, contact Dr. Yamilette Chacon (chaconyd@jmu.edu)