London Study Abroad: Student Stories
Looking to study abroad in London? Many of your peers have embarked on this experience, enabling them to learn more about different cultures, as well as to learn more about themselves. Read some of their stories. 
Chelsea Glowacki
Senior
Converged Media/Interactive Design
London – Spring, 2016
 
How would you describe your experience abroad?
It was incredible to have a whole different learning experience. Learning outside of the classroom, experiencing the knowledge through museums/art and then exploring my independence through travel. It was a very freeing experience as cheesy as that sounds. I met some amazing people, had awesome food and saw the most incredible sights.
 
If a friend were to ask you about going abroad, what would you say?
Best experience of my life. It truly molds you into who you are and want to be as a person. Also, seeing how others live/act/etc. outside of the United States is very culturally important. All my friends asked me how I felt when I got home and I said of course I miss London but coming home made me want to explore my country even more. I want to see the Grand Canyon or go to New Orleans for Mardi Gras. I don't want to miss out on the amazing traveling there is to do here as well.
 
What is something you will always remember from being abroad?
One of the last meals we had all together was at one of our favorite places, called Homeslice. It was kind of like a full-circle kind of thing because it was one of the first places we ate and it was also the last. From the time we started until the end we had changed and grown so much and it was fun to see the difference. But, also, I loved hiking the Amafi Coast. It was one of the most beautiful sights I had ever seen. We hadn't exercised in forever until that point and we were sweaty and tired but the views made it all worth it. Lastly, it was the little things that you remember like riding on the Tube. It's the random nights that were the most fun and the most spontaneous were the ones to remember.
"Europeans are more go with the flow and I learned to relax and go with things even if I was hesitant or didn't necessarily want to do whatever it was."
What is something you wish you knew before going abroad?
I wish I knew how much money I was going to spend. But, also I wish I knew how quick it was going to be. It flew by and before I knew it, I didn't get to go to that place or that other place on our list. But, then again it makes it more exciting for when you plan to go back.
 
If you are ever able to go back, where would you travel next?
Greece, Italy AGAIN, and Thailand.
 
What  advice would you offer future SMAD students going abroad?
Save up money and bring lots of warm clothes, but also don't hold back! Do something you would never do. Don't be afraid to wear different styles or try foreign food. Also, travel as many weekends as possible and hit every country you can. Try not to sit around and walk everywhere all the time. Who knows you might come across something really special.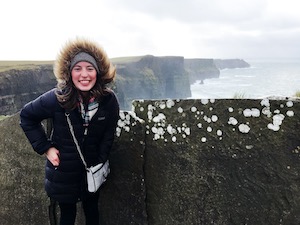 Chelsea and her friends visited the Cliffs of Moher in Ireland on a weekend trip.
Chelsea hiked Cinque Terre in Italy during her Spring Break while abroad.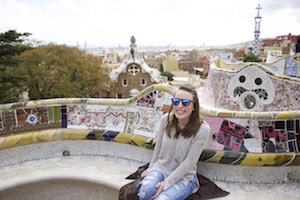 During her spring break abroad, Chelsea visited Park Guell in Barcelona.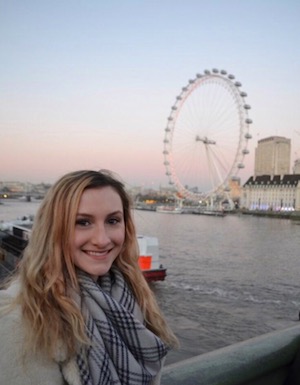 On the first day of the program, Erica did a scavenger hunt through London.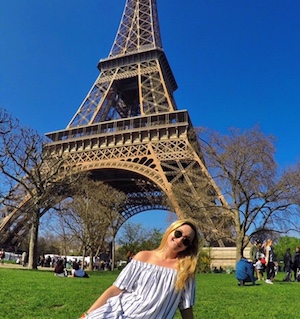 Through the JMU program, Erica traveled to Paris and visited the Eiffel Tower.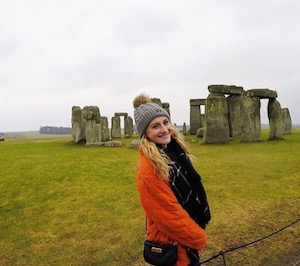 Erica visited Stonehedge on a day trip with the school in February.
Erica Van de Graaf
Junior
Integrated Advertising and Corporate Communication/Creative Advertising
London – Spring, 2016
 
What was your favorite part of being abroad?
My internship was my favorite part of my experience abroad. I worked at an international public relations and communications firm. My favorite part besides the unlimited coffee and fruit, was how many amazing and brilliant people I got the chance to work with. Being around extremely successful and motivated people rubbed off on me, and now I am striving for higher levels of success for myself. I know where I want to work and what I want to do with my life. The internship was two days a week and no outside work. It did not take away from my ability to travel or see all of London at all. I highly recommend doing an internship if you are even considering it, you'll love it.
"Going abroad made me realize how big the world is. It's easy to get stuck in a bubble of your life and forget how many possibilities there are. I have so much to do and I have learned to expand my horizons."
Other than participating in an internship abroad, what is advice you would offer a SMAD student looking to go abroad?
Say yes to everything. I never napped and I don't think you should either. I was busy 100% of the time and was tired the entire time, but that allowed me to experience London to the fullest. This is the time to step out of your comfort zone.
 
Before going abroad, what is something you wish you knew?
Save more money. I am looking back thinking why did I buy that $50 sweatshirt when I could be using that money towards a train ticket to Paris. I have learned the value of money, and if you save it before you go it will be a lot less stressful when you are there. You won't need to worry if you can afford a nice dinner out with your friends. Experiences are the best thing to spend your money on, so save it for that! When you do get there, also don't be afraid to spend the money you saved, cause you'll never get the chance to take a quick plane ride to Italy again.
 
It seems as though you had amazing experiences abroad, what made London such a valuable experience for you?
I have no regrets from studying abroad. I maximized my time there and experienced London to the fullest. Being a student, having a job, as well as traveling to a new country every weekend, I can easily say it was the most exciting three months of my life. It sounds busy, but if I could do it again I would not change a single thing.