Students in the James Madison University School of Media Arts & Design work in an industry-standard facility utilizing the latest technology and software tools. The School provides students with real-world experiences supported by knowledgeable faculty and generous access to labs and equipment.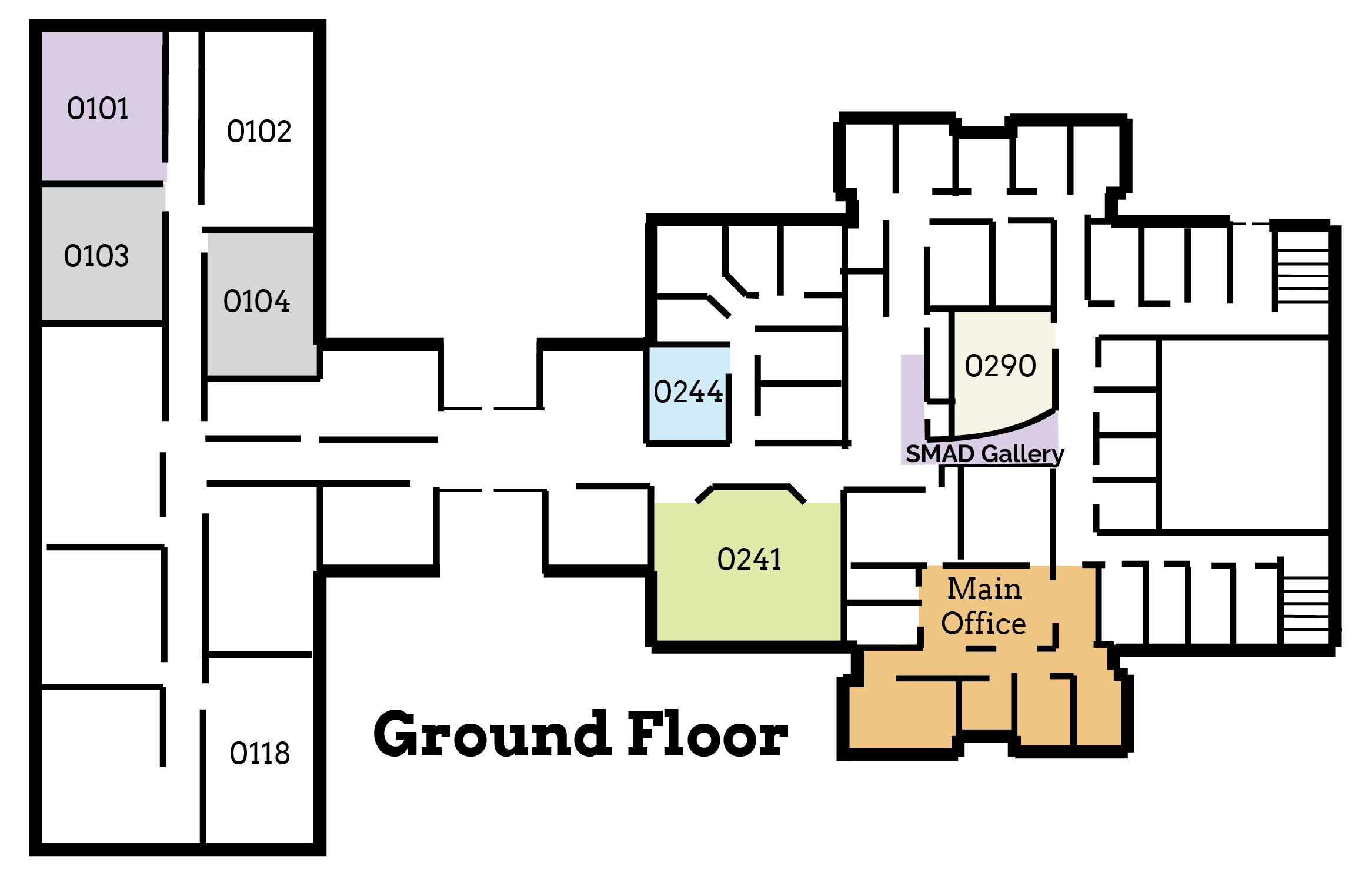 Interactive Media Lab - 0101
An ideal environment for teaching design concepts and software techniques used in converged media. With one 80" monitor at the front of the room and four 50-60" monitors on the walls, students can easily follow along with hands-on software demonstrations or see detailed images when discussing professional design and student work. The lab seats 21 students with large screen Apple iMacs loaded with a wide variety of software for media development — graphics, audio, video, and web design — and the full Adobe Creative Cloud suite is available on every computer.
General Purpose Lab - 0104
The 21-station lab is available exclusively to Media Arts and Design students in classes and after hours.  The computers have current versions of Adobe Creative Cloud suite and other Mac applications used in various courses. For teaching purposes the labs are equipped with projectors and large viewing monitors. (Harrison Hall 103 is a general JMU lab that SMAD students also can use during non-class hours.)
Post-Production Lab - 0241
This 18-station Mac Studio lab is used for editing and compositing and is available for students in classes and after hours. Software includes Final Cut Pro X, Adobe Premiere, and Adobe After Effects as well as all other programs in the full Adobe Creative Cloud. The computers in this room are the fastest ones in SMAD, and they're connected to an 192-terabyte Facilis shared storage system. Students can ingest footage to this SAN, complete their editing and compositing, and then access or play out the video in multiple locations within the building, including the TV studio. Soon they'll even be able to do so from areas beyond Harrison Hall.
Photography Lab - 0244
A space dedicated specifically for students involved in SMAD's photojournalism course. The lab is equipped with two Apple Mac mini computers and two high-end color inkjet printers. The computers come equipped with professional photo editing software. The workspace also includes lighting and backdrops to help students learn the best way to shoot photos with SMAD's fleet of DSLR cameras.
Student Resource Room - 0290
Open to students working in groups or individually. Equipment includes three dual-monitor stations for video editing and seven additional iMacs for writing, scanning, graphic creation/editing and more. The full Adobe Creative Cloud suite is available on every computer. Additionally, a conference table configuration makes this room a great place to work on team projects.
SMAD Gallery
This hallway gallery features a steel cable picture rail hanging system that provides display space for student, alumni, and professional creative work. The gallery extends along three hallway walls, and includes a large display board and a digital monitor for showcasing interactive work.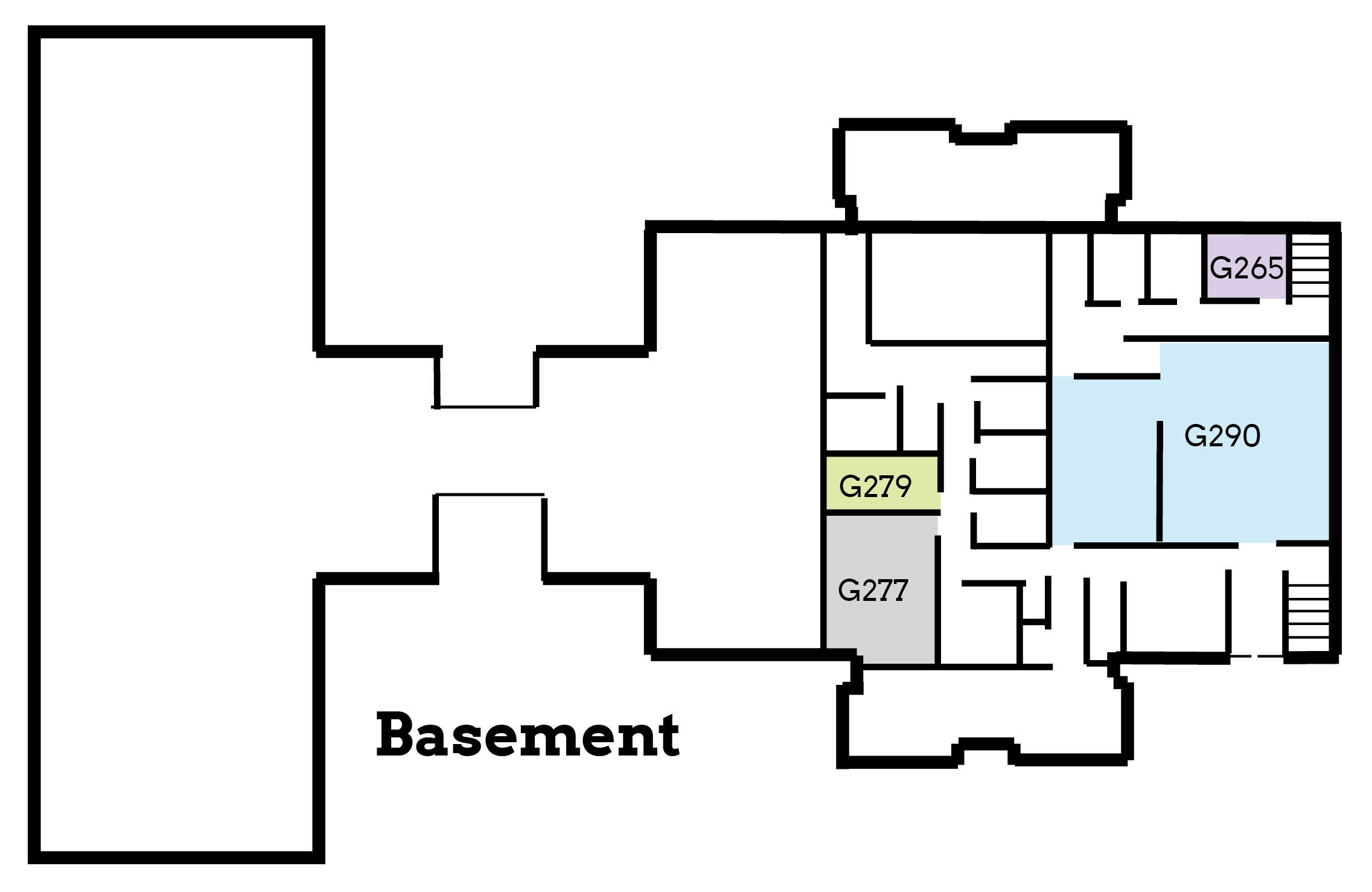 Audio Sweetening Room - G265
Features an audio/video edit station in a space treated with Auralex sound treatment panels. There is a Whisper Room brand announce booth that includes a video monitor for ADR sessions. A RODE Broadcaster microphone is used for voiceovers.
Converged Newsroom - G277
A collaborative workspace designed for students interested in telling stories across platforms. The 16-station iMac lab gives students across concentrations access to the latest production software to help in the process of visual storytelling. The classroom also has professional news producing software used by students producing live newscasts. The full Adobe Creative Cloud suite is available on every computer.
Equipment - G279
Available for students to accomplish their production assignments. Reservations are made online ahead of pickup. Students enrolled in production courses have access to video cameras, camera support, audio recorders, microphones, still cameras and light kits.
Television Studio - G290
The studio is used for narrative/cinematic productions as well as informational and news-related programming. It eatures a 35' x 35' soundstage and multiple set areas that include a white background, green screen, news set and both black and grey cycloramas. The studio features three Hitachi Z-HD6000 cameras. 
The control room is equipped with: 
Ross Video Carbonite Plus switcher
Ross XPression 3 channel graphics system
Wheatstone Strata 32 audio board
24-input Kaleido MX multivision system connected to two Panasonic Plasma display monitors.