John M. Woody: Professor Emeritus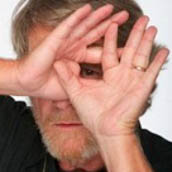 M.F.A. University of North Carolina-Greensboro
M.S. Syracuse University
B.S. James Madison University
Personal Email: johnwoody@me.com
Professor Woody's career has always been a balance between the professional world and the academic environment. He says, "I teach because I love to teach. I shoot, edit, and create videos because I love the challenge. I am proud of my tenure at the Learning Channel years ago. It was so useful in developing my interests in the various stages of network level production."
Professor Woody was  named an "Apple Distinguished Educator (ADE)" in 2001 and continues to work closely with Apple, Inc.  Apple confers this distinction on only a handful of professors nationally each year. According to Apple, "When new technologies are developed, these leading educators are the first to make effective use of technology to support learning objectives in the classroom. They also model effective administrative leadership and teacher professionalism. As mentors, they influence other educators by presenting their successes at key conferences and events, leading hands-on workshops, and getting actively involved at the local, state, and national levels. They are committed to engage, motivate, and inspire young minds."
Professor Woody's productions have earned him 28 national awards from the Broadcast Education Association (BEA), the National Broadcasting Society (AERho), Council for Advancement and Support of Education (CASE), the Pharmaceutical Manufacturing Association of America (PMAA), and the National Intramural-Recreational Sports Association (NIRSA).  
Teaching Interests: High Definition Editing
Research/Creative Activities: New Digital Media Editing Tools
Professor Emeritus of Media Arts and Design 2010