Alexandra M. Vilela: Associate Professor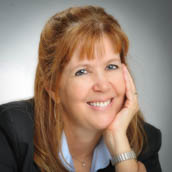 Ph.D. University of Wisconsin - Madison
M.A. Michigan State University
M.B.A. Universidade Federal de Minas Gerais (Brazil)
B.A. Universidade Federal de Minas Gerais (Brazil)
Dr. Vilela joined James Madison University in 2012, after teaching advertising and public relations at Towson University, MD for six years. She received her B.A. in Advertising and Propaganda first, followed by another B.A. in Journalism, and then completed an M.B.A. in Marketing at the Universidade Federal de Minas Gerais (UFMG), Brazil. In the U.S., she received her M.A. in Public Relations at Michigan State University, and her Ph.D. in Mass Communications from the University of Wisconsin—Madison.
Prior to arriving in the U.S., Dr. Vilela worked for more than ten years in Advertising, Marketing, Public Relations, and Journalism in South America and Europe, as an advertiser for advertising agencies; marketing analyst for a financial organization; marketing advisor for various malls; event coordinator for the Shopkeepers Chamber; and cabinet chief at the District Attorney's Office; among other positions.
Dr. Vilela's current research is focused on how consumers process and respond to cause-related marketing campaigns; global product placement (i.e., the influence of globalization in Bollywood movies and third-person perception/effects); gender and the Selectivity Model; and gender-role portrayals in advertising.
Teaching Topic Interests: Global advertising and corporate communication; audience analysis and media; creativity in advertising; corporate communication management; advertising, corporate, and public relations writing
Research Interests: Cause-related marketing; corporate social responsibility; gender; global issues in advertising; consumer behavior; product placement; and social strategic communication campaigns (philanthropy/charity)
Recent publications
Nelson, M. R., & Vilela, A. M. (forthcoming in fall 2012). Now starring brand Product placement as local, global, and glocal branding communication tool. In H. Cheng (Ed.), The handbook of international advertising research. Wiley-Blackwell
Nelson, M. R., & Vilela, A. M. (2012). Is the Selectivity Hypothesis still relevant? A review of gendered persuasion and processing of advertising messages. In C. C. Otnes & L. T. Zayer (Eds.). Gender, culture, and consumer behavior. Taylor and Francis
Paek, H.-J., Nelson, M. R., & Vilela, A. M. (2011). Examination of gender-role portrayals in television advertising across seven countries. Sex Roles: A Journal of Research, 64 (3), 192-207
Vilela, A. M. (2010). Consumer processing of cause-related marketing (CRM): The influence of gender on message evaluations. Saarbrücken, Germany: VDM—Verlag Dr. Müller