Ryan Parkhurst: Assistant Professor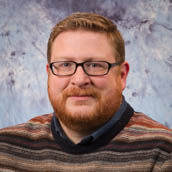 M.S. Syracuse University
B.A. State University of New York at Oswego
I started my career in broadcast journalism at a tiny TV station in Binghamton, New York working the morning shift. From that inauspicious beginning I began a career that spanned five stations in two states, and one stint overseas. My career finally took me back home to Syracuse, New York where I worked as a Senior/Executive Producer at News 10 Now, a 24-hour cable news channel.
While working for News 10 I helped lead coverage that won "Best Spot News Coverage" awards from both the Syracuse Press Club and the Associated Press. I was also part of a team that won an Edward R. Murrow Award for "Best Television News Website."
Prior to working at News 10, I helped create and produce a highly acclaimed morning news show in Scranton/Wilkes-Barre, Pennsylvania.
I received my B.A. in Broadcast Journalism from the State University of New York at Oswego. I received an M.S. in Broadcast Journalism from the Newhouse School of Public Communications at Syracuse University.
Teaching Interests: Video Journalism, Online journalism, anything production based
Creative Work: Documentaries and journalism