Imelda O'Reilly: Associate Professor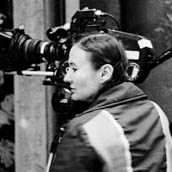 Professor Imelda O'Reilly is a native of Ireland.  Her work as an independent filmmaker has screened internationally and garnered several awards. Her films and feature screenplay have screened or been represented at film festivals, including Cannes, Rhode Island, Cinequest, International Film Festival de Creteil, WorldFest Houston, and the Richard Harris International Film Festival.
As a commissioned writer on Song For New York with Mabou Mines her work was developed through the Sundance Theater Lab and New York Theater Workshop.  She is the recipient of a Fulbright Fellowship to Morocco where her film Bricks, Beds and Sheep's Heads was a Regional Finalist for the Student Academy Awards.
Imelda's short film Eggs and Soldiers was broadcast on RTE television and is distributed through ShortsTV Europe. It screened at over 50 festivals to date across nine different countries. It won a Tonino Guerra Award for screenwriting from the Chicago Art-house Blow-Up Film Festival and an award of excellence at the Broadcast Education Association. In addition, it received awards from Accolade Competition, Global Shorts, Los Angeles and IndieFest Film Awards.
Imelda has several projects in development. Her feature screenplay titled We're the Kids in America was an official selection of L'Atélier Cinéfondation that is part of the Cannes International Film Festival for 2018. It also received an honorable mention from the Stowe Story Labs and won "Best Of" competition from the Broadcast Education Association in 2019. It was also workshopped through the Moving Picture Institute Screenwriting Fellowship. It was a quarter-finalist in the Nicholls Fellowship in 2019.
She earned an MFA with honors from Columbia University. Imelda spent three years in Singapore as an Arts Professor in the Graduate Film Program for New York University TischAsia. Prior to NYU she taught at Barnard College, Hunter College and the School for Visual Arts. She is currently an Assistant Professor at James Madison University.
Her work has received support from the Sundance Theater Lab, Mary Redman Foundation, New York Foundation for the Arts and the Fulbright Foundation. Her plays were produced in downtown Manhattan at the CSV and Mabou Mines. She has a collection of poems titled I Wake In Half Dream published by Lapwing Press. Her short story Stovepipe appears in Shenanigans published by Septre in the UK.
Grants
Fulbright Fellowship
New York Foundation for the Arts
The Irish Arts Council
Culture Ireland
The City University of New York
The Critical Language Enhancement Award in Morocco