Thomas Patrick O'Connor: Director of JMU in LA and Professor Emeritus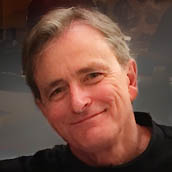 M.F.A. University of Virginia
M.A. University of Michigan
B.A. University of Michigan
Thomas Patrick O'Connor has written and produced over 50 documentaries and teleplays for broadcast, several of which have won major awards. Professor O'Connor has traveled widely for his productions—throughout Europe, Latin America, the Caribbean and Mexico. His film Fatima was the first nationwide documentary shown in Russia after the fall of the Soviet Union in 1989.
His latest film Dangerous Edge: A Life of Graham Greene, a biopic about the famed British author, premiered nationally in prime time on PBS in 2013. It has since been broadcast in more than 23 foreign countries and PBS has released an expanded version on DVD. Narrated by Sir Derek Jacobi (Gladiator) with voice-over by Bill Nighy (Love Actually), the documentary uses Greene's own words from his books and recordings, as well as photographs and clips from his many films, to reveal the man about whom Time magazine's Paul Gray wrote:  "No serious writer of the twentieth century has more thoroughly invaded and shaped the public imagination than Graham Greene."
Awards
1998: Cine Golden Eagle, Love One Another.
1997: Emmy, A Place Called Home.
1984: Emmy, Fatima.
1981: Gabriel Award, The Hawthorne Dominicans.
More about his professional work:
http://www.imdb.com/name/nm2691336
Teaching/Research/Creative Interests: Documentary Film, Screenwriting, Film Adaptations. He is the Director of JMU in LA: The Entertainment Industry. https://www.jmu.edu/international/abroad/programs/jmu-usa-la.shtml
Recent Presentation: Professor O'Connor introduced the UK premier of Dangerous Edge at London's Frontline Club, a center for public events that promotes engagement and dialogue on international affairs and champions independent journalism. http://www.frontlineclub.com/grahamgreeneblog/
Professor Emeritus of Media Arts and Design 2016