Talé Mitchell: Associate Professor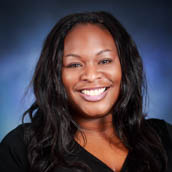 Ph.D.  University of Illinois, Champaign-Urbana 
M.S.   University of Illinois, Champaign-Urbana.
B.F.A. American University
Associate Degree in Theatre Performance and Art Design
Before joining James Madison University, Talé Mitchell studied and taught at University of Illinois, Champaign-Urbana. Her teaching experience includes basic to advance level courses in strategic communication; advertising, creativity in advertising, consumer behavior, visual communications, marketing research, and public relations. In addition, she has professional experience in marketing, advertising, and graphic design including; account researching, coordinating, planning, creative strategy and creating advertising campaigns.
She holds a Ph.D. in Media Communications & Advertising Strategy and a Master of Science Degree in Advertising, both from the University of Illinois, Champaign-Urbana.  Additionally, she holds a Bachelor's of Fine Art degree in Visual Communications with emphasis on Graphic Design and Web Design from American University and an Associate Degree in Theatre Performance and Art Design.
Her research interest focuses on media influence. More specifically, her interests are in how the media influences us through marketing, advertising, race, and body image. In addition, she is interested in consumer behavior and strategy as it relates to advertising and social influence, and branded product placement as it relates to persuasion, effectiveness, and emotions.