Tom McHardy: Professor Emeritus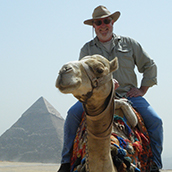 M.F.A. University of New Orleans
B.S. Louisiana State University
Tom McHardy has a wide range of media experience including broadcast television, corporate video, and multimedia production. His past clients have included Texaco, Shell Oil, New Orleans Museum of Art, New Orleans Educational Technology Center, National Association of Insurance and Financial Advisors, Timbreline Records, and WLAE-TV in New Orleans. Prior to graduate school at the University of New Orleans, Tom spent ten years in the computer industry working for computer manufacturers such as Apple, Inc. where he was involved in early days of multimedia and the Internet (yes, he is that old). He has presented at a wide variety of professional conferences including the Broadcast Educators Association, the University Film and Video Association, the Government Video Conference, and the Society of Applied Learning Technology. He loves to travel and to teach in study abroad programs and thinks that in another life he could have been Indiana Jones.
Teaching Interests: Film Studies, Videography, Experimental Video, Interactive Media
Research/Creative Activities: Film Festivals, Experimental Video
Presentations
August 2015
Presentation on "Leveraging Film Festivals for Learning" at the annual convention of the University Film and Video Association.
April 2015
Presentation on "Empowering New Filmmakers With Digital Technologies" at the annual Popular Culture Association/American Culture Association 2015 conference.
April 2014
Presentation on "Blended Learning in a Video Production Course" at the annual Broadcast Education Association Conference. 
April 2013
Presentation on "Preparing Students for DSLR Production of Short Films" at the annual convention of the Broadcast Education Association.