Steven D. Anderson: Ruth D. Bridgeforth Professor of Telecommunications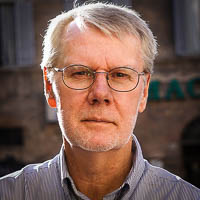 Ph.D. University of Denver
M.A. University of Denver
B.A. St. Cloud State University
Phone: (540) 568-3032
Office Location: Harrison Hall 0252
Dr. Anderson is a full professor in the School of Media Arts & Design. He is interested in interactive design, front-end web development, multimedia storytelling, video journalism and study abroad, not necessarily in that order. His websites have won the top awards from both the Association for Education in Journalism & Mass Communication - AEJMC (Best of the Web Competition) and the Broadcast Education Association - BEA (Best of Festival).
Over the past several years, Dr. Anderson has developed applications utilizing HTML, CSS, video streaming, and content management systems such as WordPress. He has taught nearly every class in the Interactive Design concentration. Most recently he has been teaching a class on the business and management of digital media.
Dr. Anderson is an Adobe Education Leader (AEL). The AEL program recognizes "innovative educators who are effectively using Adobe tools and applications to promote excellence in the classroom." He has created numerous websites using Adobe tools and has utilized the Adobe Digital Publishing Suite to develop an iOS app that was available in the Apple App Store.
His most recent project is a tutorial site on the new CSS layout module called "CSS Grid." The site won a Best of Competition in the 2019 BEA Festival of Media Arts and can be found at grid-layout.com. 
In the fall of 2010, students in his Converged Media Lab class built JMU campus buildings in 3D using Google Sketchup. The project was prominently displayed on the JMU Admissions site to give prospective students a virtual tour of campus. The project was featured in the fall 2011 issue of Madison Magazine.
Dr. Anderson has a strong interest in international education. He has directed a JMU summer program in Urbino, Italy every summer since 2011. During those trips, students produced multimedia stories on people and issues in the town of Urbino — a Renaissance hill town in the Marche region of central Italy. He created the 2011 website(which won an Eppy Award as the Best College/University Journalistic or Documentary Report) and subsequent sites which can be viewed at: projects.ieimedia.com/2012urbino, projects.ieimedia.com/2013urbino, 
projects.ieimedia.com/2014urbino, 2015.urbinoproject.com, 
2016.urbinoproject.com, 2017.urbinoproject.com, 2018.urbinoproject.com, and 2019.urbinoproject.com.
Dr. Anderson was the faculty member-in-residence for the JMU London Program (Fall 2009) and the JMU Florence Program (Fall 2017). He has also worked with students at Bahçeşehir University in Istanbul, Turkey and at Misr International University in Cairo, Egypt.
Most recently, Dr. Anderson was a visiting professor at the University of Urbino (Italy) in the spring of 2020. He taught an interactive design seminar for Italian students. 
Dr. Anderson is an author of a textbook entitled Exploring Electronic Media: Chronicles & Challenges from Blackwell Publishing in which he chronicles the historical development of electronic media technology and examines the current state of both traditional (radio, television, cable) and new media technologies & applications.
Dr. Anderson was the 2004-2005 President of the Broadcast Education Association (BEA), the association for electronic media professors and industry professionals based in Washington, D.C. He served as the convention program chair for BEA2000, the international conference of the association held in Las Vegas in April of 2000. He has also chaired the Production Aesthetics & Criticism Division, co-chaired the BEA Creative Activities Task Force and served on the BEA Multimedia Task Force. The Creative Activities Task Force led to the development of the BEA Festival of Media Arts, an event which he produced for the first three years of its history.
Dr. Anderson has received numerous national awards for his multimedia and video work and has published across a broad range of journals, both academic and trade. Before coming to JMU, Dr. Anderson was on the faculty at the University of Oklahoma, where he served as the Sequence Coordinator for the Broadcasting & Electronic Media Sequence.
Prior to entering academe, Dr. Anderson was the environmental reporter and weekend weathercaster for KCNC television, a network O&O station in Denver, Colorado where he worked between 1982 and 1989. He also worked as a news photographer, weathercaster and news reporter at stations in Fresno, California and Fargo, North Dakota.
Dr. Anderson also served as the Director of the School of Media Arts & Design from 2007 - 2014.
Teaching Interests: Communication Technologies, Multimedia Storytelling, Video Journalism, Study Abroad
Research/Creative Activities: Content Management Systems, Web Standards & CSS, Database-Driven Web Sites, Streaming Video Applications