Casey Templeton: Photographer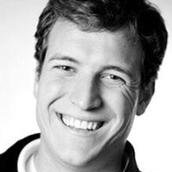 Casey Templeton pulled an old, dusty Canon T10 film camera out of his mother's attic at age 15, and an instantaneous love affair was begun.
"I learned photography 24 photos at a time," the JMU SMAD graduate says of his early days, when his photos wouldn't end up in New York Times, but rather, under his own scrutinizing eyes, carefully assessing what went wrong.
The young, ambitious photographer—nicknamed "Casey again" by professionals whom Templeton endlessly contacted and networked with during his time at JMU—carefully grew to become a recognized photo genius. From the New York Times to National Geographic, the 2006 College Photographer of the Year and 2006 JMU grad is now based in Richmond, where he runs his own business, Casey Templeton Photography, taking lifestyle photos for large corporations and spending time with his college sweetheart and three kids.
"Casey Templeton is his own photographer," says Tommy Thompson, Templeton's photojournalism instructor and mentor. "He sees what others have done, but he goes in his own direction."
Profile by Caroline Alkire, SMAD ('16)