Chuck Taylor: Freelance Writer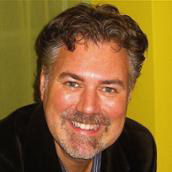 The moment 10-year-old Chuck Taylor turned on his portable radio and heard radio icon Casey Kasem counting down America's top 40 hits, he was hooked.
"It was always about radio and writing. I had the good fortune of knowing since I was a kid that this is where I would end up," Taylor said.
Since his graduation in 1984, Taylor has been best known as the go-to "pop guy" for Billboard Magazine, or as he describes it, the Bible of the music industry.
At JMU, Taylor learned the ins and outs of journalism as editor of Curio magazine and features editor at The Breeze.
After graduating, he combined his interest in radio and writing when he was hired as the radio editor for Billboard Magazine in 1995. Taylor spent 14 years at Billboard, where he wrote seven cover stories about Céline Dion, interviewed a number of celebrities and found his niche as the single-reviews editor.
Today, Taylor is a full-time freelancer and continues to write about music on his blog, "Words Neatly Arranged."
Profile by Holly Warfield, SMAD/DANCE ('16)