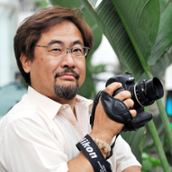 Watching the Olympics at home on the couch is a normal activity for many families, but Yo Nagaya ('84) has had front row seats for the past 27 years. He has shot photographs at every Summer Olympics game since 1988.
Photography and design have been passions of Nagaya's since he graduated with a graphic design degree.
"No matter what I shoot, design has always been an important part of my photos," Nagaya says.
Along with taking Olympic photographs, Nagaya also freelances on the side by shooting weddings, local commercials and sports photos. He also teaches English to engineers at Hitachi Ltd. in his free time. Nagaya credits his photography career to the preparation from his major and the publications he worked on while attending college including The Breeze (where he was a photo editor), Curio magazine and The Bluestone yearbook.
After graduation, Nagaya interned with The Washington Post's photography department and then returned to his hometown of Tokyo where he continued work as a staff photographer.
It all started, he says, with JMU.
"What I am today, being able to enjoy my career, I owe it all to [JMU]," Nagaya says.
Profile by Erin Williams ('16)