Michael McLaughlin: Content Production Assistant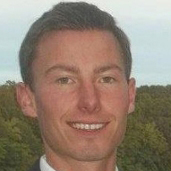 Content Production Assistant

Michael McLaughlin, a 2013 graduate, works for Whistle Sports as a content production assistant. McLaughlin has combined two of his passions, sports and film, at a company that aims to entertain, engage and empower the next generation of sports fans through sports media content.
As the production assistant, McLaughline supports the production team in all aspects of media construction, from creative ideation through post-production. He also maintains the distribution of media content, which can be found on several different platforms including Xbox Live, Amazon Instant Video, DailyMotion, YouTube and more. 
During his senior year at JMU, McLaughlin and his roommates, Kerri Bartruff, Bobby Kownack and John Moran, wrote and produced a short film called "Elysium Bridge," which won a Student Emmy for "Outstanding Long Form Fiction/Non-Fiction Film" from the National Television Arts & Sciences: Chesapeake Bay chapter. Today, the award is on display in Harrison Hall.
McLaughlin has worked as a production assistant on several independent films and reality television series, most notably "Top Chef" and Abbey Lee Miller's "Dance Studio Rescue."
Profile by Nicholas Fanelli ('16)