Bob Leverone: Photographer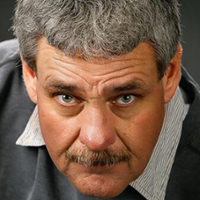 Bob Leverone, a 1979 graduate, is a Pulitzer Prize-winning photographer. After leaving JMU, Leverone worked at The Charlotte Observer where he won the Pulitzer prize for his part in a team that exposed money fraud involving nationally known televangelist Jim Bakker.
Leverone says he never put the prize on his resume, though, crediting the lead reporter for winning the prize for the team.
Even without the prize on his resume, Leverone went on to a career photographers would envy, traveling many parts of the world while working for numerous newspapers. He has photographed historic events such as the fall of the Berlin Wall.
Leverone currently works as a sports photographer. He mainly works as the Carolina Panthers photographer but has photographed many Super Bowls and Final Four tournaments.
Profile by Taylor Main, SMAD ('16)