Jena Frick: Associate Producer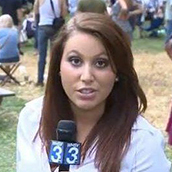 Jena Frick, a 2014 graduate, is an overnight associate producer at WJZ CBS News in Baltimore.
Working alongside the morning producer and editor, she writes scripts for the morning shows. Jena also selects the graphics and video for each story and works with video editors on determining which shots are cut together. During the broadcast she cues the anchor, live reporters and weather and traffic reporters from the producer's booth.
In her spare time, Frick is a member and performer in a sketch comedy troupe, Brick Penguin Sketch.
Profile by Luke Byrnes, SMAD ('15)