Steve Buckhantz: Play-by-Play Announcer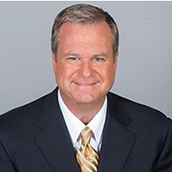 Steve Buckhantz grew up in Arlington, Virginia, where he attended Washington Lee High School before attending the University of Miami. After finding that the size of the campus limited his career opportunities, Buckhantz returned to Virginia to attend James Madison University.
While at JMU, Buckhantz dabbled in radio and television in the Harrisonburg area.
After graduating in 1977, he worked in Chattanooga, Atlanta and, eventually, his hometown of Washington, D.C. After working at the Fox affiliate there, he became the Washington Wizards' play-by-play announcer in 1997. Eighteen years later, he is still in that position, doing what he loves.
Profile by Kat Maniatakis, SMAD ('16)