Allison Browne: Journalist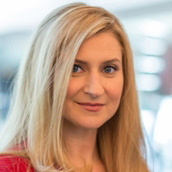 Allison Browne, a 1998 mass communications grad, is is a professional journalist with nearly 20 years experience in television, radio and print news. Currently, she is a Line Producer for Bloomberg TV in New York City. Browne has worked for some of the most notable networks in the U.S. - including Bloomberg, Associated Press, ABC News and the Fox News Channel. She helped launch Fox Business Network in 2007 as one of its original producers.
Her experience covering markets propelled her career globally - producing for CNBC Asia in Singapore. At CNBC, she supervised content and correspondents in Shanghai, Tokyo, Hong Kong, Seoul and Sydney.
She started in television production at WHSV-TV in Harrisonburg.
From there, Browne spent time producing in Washington DC, for WJLA-ABC 7 TV, Newschannel8, ABC News Radio and the AP. She was also a correspondent for Metro Networks and WTOP Radio. While in the Washington area, she covered presidential elections, gubernatorial races, the 2003 sniper attacks, and 9/11.