Jamie Brown: Producer and Director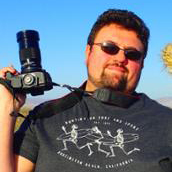 Jamie Brown studied producing and directing as part of the School Media Arts and Design. As a long, curly haired and horror-loving college student, Brown had the perfect job at Glen's Fair Price as a makeup artist and prosthetic creator until he graduated in 2008.
Since then, Brown has been a media manager, cameraman, cinematographer, producer, director, editor, writer and visual-effects artist, and holds countless other titles.
Today, Brown is working behind the scenes on his sixth season with "The Dead Files", a reality television show on the Travel Channel. When he's not on set with "The Dead Files," Brown has been working on his first horror feature film, "Friends Don't Let Friends." In his free time, he builds monsters, masks and body parts.
Profile by Laura King, SMAD ('16)