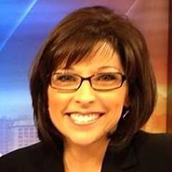 Julie Bragg graduated from JMU in 1994 and eventually found her way back to WTVR-6 in Richmond, a place she had called her station since she was teenager.
She began working there when she was 15 on a show called "For Kids Sake." Her first story was about a teen dance club. While she was performing her stand up, she realized that she wanted to be an anchor.
Now she reports the 5 o'clock news at the same station.
Between her time at JMU and Richmond, she worked at a small station in Martinsville as the lone anchor on a newscast that was mostly unscripted.
Now that she is a mom, she uses her influence as a news anchor to reach out to children. Recently, she helped an 8-year-old girl named Marley who was teased at school because of her glasses.
"Now that I'm a mom, stories impact me differently," said Bragg, who has a son in preschool. "I can get emotional about some stories. They can be happy or sad. I've always cared and been impacted but now it's been more challenging."
Profile by Morgan Lynch, SMAD ('16)