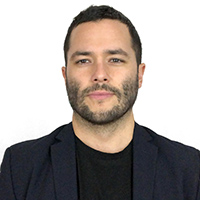 Year Graduated
2013
Major/Minor
Industrial Design
Noteworthy campus achievement 
Installation of Light Pavilion just recently installed in front of Duke Hall.
What are you up to now?
I am an architect and designer based in New York.
How does your art major/minor inform your career?
My studies in Industrial Design and Architecture at James Madison University were the basis of my design and architecture career. It was the stepping stone to pursuing a Master's in Architecture and continuing to onto a professional career in architecture and design.
What are some of the most valuable skills you gained from the School of Art, Design and Art History?
A fundamental knowledge and understanding of design and the design process. To pursue your passion with persistence and in a way that is unique to your interests and curiosities.
What is your advice for JMU students knowing what you know now?
Find what it is you love to do. Continue to push yourselves in your careers through your passions and curiosities. Do not get discouraged in the tough moments of those pursuits and always strive to do great work.