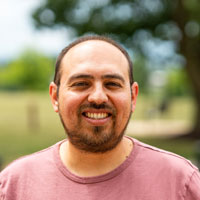 Office:
Cleveland Hall 218
Phone:
(540) 568-6394
Email:
urquidag@jmu.edu
Education:
B.A. University of California, Los Angeles
M.A. Claremont Graduate School
Ph.D. Purdue University
Research:
Alberto Urquidez's research focuses on contemporary theories of racism.  His monograph, (Re-)Defining Racism: A Philosophical Analysis (Palgrave Macmillan, 2020), critically assesses contemporary philosophical approaches to racism.  He is currently working on a conceptual framework for analyzing racism as a system of oppression; additionally, he is writing an introductory book on the philosopy of racism.
Teaching:
Dr. Urquidez has taught a variety of philosophy courses at previous institutions.  He begins his teaching career at JMU with a Special Topics course in the Philosophy of Race, and Critical Thinking. 
Publications:
Book
Urquidez, Alberto G. (Re-)Defining Racism: A Philosophical Analysis. African American Philosophy and the African Diaspora. Palgrave Macmillan, Chan: 2020.
Selected Articles & Book Chapters
Urquidez, Alberto G. "Anit-Ethics as Insurrectionist Ethics: An Analysis of the Normative Foundations of Philosophies Born of Struggle," in Insurrectionist Ethics: Radical Perspectives on Social Justice, eds. Jacoby A. Carter and Darryl L. Scriven, Cham, Palgrave Macmillan: 2023.
Urquidez, Alberto G. "White Individualism and the Problem of White Co-optation of the Term 'Racism'," Special Issue: Remembering Charles Mills, Radical Philosophy Review, Volume 25, No. 2 (2023): 161-190. DOI: 10.5840/radphilrev2022117124
Urquidez, Alberto G. "What Accounts of 'Racism' Do," Journal of Value Inquiry Vol. 52, No. 4 (2018): 437-455. DOI: 10.1007/s10790-018-9626-0
Urquidez, Alberto G. "Jorge Garcia and the Ordinary Use of 'Racist Belief,'" Social Theory and Practice Vol. 43, No. 2 (2017): 223-248. DOI: 10.5840/soctheorypract2017283
Internet Publications / Podcast Episodes 
Urquidez, Alberto G. "Orientalist Racism and the Politics of 'Inflation': A Commentary on George Fourlas' Anti-Colonial Solidarity," Syndicate (forthcoming, 2023).
Urquidez, Alberto G. "Prof Alberto Urquidez on Chp 5 'Evoking Race (To Counter Race-Based Oppression),'" Podcast episode, Oxford Public Philosophy Asynchronous Online Course, 2023.
Urquidez, Alberto G. "In Defense of a Subjective Condition on Proving Religious Miracles," The Secular Web (Modern Library), July 30, 2022.