Dr. Frances Flannery: Interim Academic Unit Head, Professor of Religion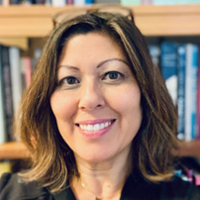 Contact Information:
Professor of Religion, Department of Philosophy and Religion
James Madison University
MSC 8006
104 Cleveland Hall
Harrisonburg, VA 22807
flannefl@jmu.edu
phone: 540.568.2830

Education:

Ph.D. in Religion, The University of Iowa (Judaism and Christianity in the Greco-Roman World)
M.A. in Religion, The University of Iowa
B.S. in Environmental Science, The College of William and Mary (Environmental Geology and Ecology)

Teaching:

Professor Flannery is a dedicated teacher who teaches in the areas of Hebrew Bible, Judaism, religious terrorism, world religions, religion and animals, and religion and the environment. She was a 2014-2015 State Finalist for the State Council for Higher Education in Virginia Outstanding Faculty Award and the 2012-2013 recipient of the Carl Harter Distinguished Teacher Award for the College of Arts and Letters at JMU. Her courses include: World Religions (REL 101); Introduction to the Hebrew Bible / Old Testament (REL 201); Judaism (REL 320); Apocalypticism, Terrorism, and Peace (REL/IA 363); Apocalypticism and Mysticism in Early Judaism and Early Christianity (REL 460); Jewish Mysticism (REL 460); Religion and the Environment (REL 460); Religion and Animals (REL 323); and The Other Bibles: Apocrypha, Pseudepigrapha, and Dead Sea Scrolls (REL 363).  Her teaching is marked by an experiential, subject-centered style, which has included hands on examination of ancient artifacts, reenactments of the Community Meal of the Dead Sea Scroll community, and visits to local sustainable farms.

Research:
Frances Flannery, Ph.D. is the author of some fifty publications large and small, including two recent books and two edited books. Her latest books are Understanding Apocalyptic Terrorism: Countering the Radical Mindset (Routledge, 2016) and a co-edited volume with Rodney Werline, The Bible in Political Debate: What Does It Really Say? (Bloomsbury/T&T Clark, 2016). She specializes in apocalypticism in early Judaism and early Christianity, particularly as it relates to dreams, visions, and religious experience. Her work in apocalypticism has taken her into other areas, including analyzing religious terrorism and biblical violence. A former environmental scientist, her current focus is eco-theology that addresses the relationship of earth, human, and non-human animals in the Hebrew Bible. She also laments the influence of apocalyptic thinking on humanity's treatment of the environment. Currently, she is Interim Academic Unit Head of the Department of Philosophy and Religion at James Madison University in Virginia, where she lives with her family (human and non-human) and engages in community peacebuilding, interfaith dialogue, and public education on religion and climate change.
Selected Speaking Engagements:
"From Herem to Gog and Magog: The Genocidal Ideal in the Hebrew Bible and Early Jewish Texts," Plenary Lecture, Conference on Religion and Violence, McGill University and Concordia University (Montreal, Canada, April 17-20, 2018).
"Theorizing the Social Function of Torture and Torture Narratives: In-Group/Out-Group Formation as a Commitment Mechanism," Torture, Abuse, and Desecration in the Name of Religion, Brown University (Providence RI, May 7-9, 2017).
"Countering Violent Extremism: Peace Strategies," at conference on "The Ecology of Violent Extremism," Toda Institute for Global Peace and Policy Research, Center for Justice & Peacebuilding at Eastern Mennonite University, and the Alliance for Peacebuilding (Harrisonburg VA, Nov. 5-6, 2016).
"Rethinking 'Counter-terrorism' in Light of the Rising Nuclear Threat from Apocalyptic Al Qaeda and ISIS," Exploring the Religious-Policy/Security Nexus in Responding to Critical Contemporary Regional/Global Challenges, Kozmetsky Center, Fletcher School of Law and Diplomacy at Tufts University, with NATO, Public Diplomacy Division (Austin TX, Nov. 1-2, 2016).
"Our Apocalyptic Moment: The Rise of Terrorism, the Collapsing of Modernity, and the Fight for Social Memory," Keynote Speaker and Professor of Master Class, Autumn School, NOSTER – Netherlands School of Theology and Religion and NISIS – Netherlands Interuniversity School of Islamic Study (Amsterdam, The Netherlands, Oct. 25-28, 2016).
Frances Flannery. "Effective Policy and the Rising Threat of Radical Islamist and Radical Christianist Nuclear Terrorism." In The Ecology of Violent Extremism: Perspectives on Peacebuilding and Human Security. Lisa Schirch, ed. Rowman and Littlefield, 2018.
Frances Flannery and Rodney Werline, eds. The Bible In Political Debate (Bloomsbury, 2016).
Frances Flannery. Understanding Apocalyptic Terrorism: Countering the Radical Mindset (Political Violence and Military Strategy Series, Routledge, 2015; paperback 2016).
Frances Flannery, Michael L. Deaton, and Timothy R. Walton. "Radical Apocalypticism and Iranian Nuclear Proliferation: A Systems Oriented Analysis." International Journal of Intelligence and Counterintelligence. (August, 2013).

Frances Flannery, "Dreams, Visions, and Religious Experience in the Apocalypses and Apocalypticism." Oxford Handbook of Apocalypticism. Ed. John J. Collins. (Oxford University Press, 2013).

Frances Flannery, Colleen Shantz, Rodney Werline, eds. Experientia, Volume One: Inquiry into Religious Experience in Early Judaism and Early Christianity. (Society of Biblical Literature, 2008).

Frances Flannery, Dreamers, Scribes and Priests: Jewish Dreams in the Hellenistic and Roman Eras. (Brill, 2004).
Native Fluency: English.  Reading Fluency: Biblical Hebrew, Aramaic, Attic and Koine Greek, Syriac, French, German. Rudimentary: Modern Hebrew, Modern Greek, Coptic. 
Service and Engagement with the World:
Professor Flannery is Founder and Executive Director of the Center for the Interdisciplinary Study of Terrorism and Peace (CISTP) at JMU (http://www.jmu.edu/cistp/ ), which seeks to bridge the gaps between academic subject matter experts, the intelligence community, public policy arenas, and NGOs. She is committed to issues of inclusion on campus and in the local community, and is a 2017 Faculty Recipient of the James Madison University Diversity Enhancement Award and 2016 Recipient, IDEA (Innovation in Diversity, Education, and Access) Grant, Office of Access and Inclusion, James Madison University for development of the First-Generation College Student Faculty-Student Lunch Program. For the Society of Biblical Literature, she is part of the Educational Resources Team, working with the Newseum to develop curricula in Biblical Studies for high-school students in the state of Georgia. She regularly shares her research with the intelligence community and is also an activist in community peacebuilding, interfaith dialogue, and public education about religions and the academic study of religion.