Dr. Pia Antolic-Piper: Assistant Professor of Philosophy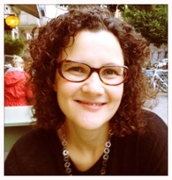 Office: Cleveland Hall 308

Phone: (540) 568-6332
Fax: (540) 568-8072
Education:
M.A. Goethe-University, Frankfurt, Germany
Ph.D. Goethe-University, Frankfurt, Germany
Research:
History of Philosophy (with emphasis on Medieval Philosophy, Ancient Philosophy and here especially 13th century metaphysics and ethics), Feminist Philosophy, Aesthetics
Dr. Antolic-Piper's main areas of research are in the history of philosophy, specifically medieval and ancient philosophy. In particular, she is studying the early 13th century reception of Aristotle's Metaphysics and Nicomachean Ethics in thinkers such as Roger Bacon and Robert Kilwardby. Her main interests here are in these authors' arguments concerning the subject-matter of metaphysics as well as the ethical, psychological and epistemological foundations of metaphysics. She is also interested in the early 13th century reception of Avicenna in the Latin world; here, specifically in the influence of Avicenna's metaphysics on conceptions of metaphysics, cosmogony and practical philosophy. She is currently working on an article on the ethical ideal of contemplation in early 13th century commentaries on Aristotle's Metaphysics.
Other areas of interest are in aesthetics and ethics where she is preparing an article on the possibility of justifying the use of literature in philosophy, and here especially the use of poetry in ethics. In addition, she is highly interested in issues in the fields of philosophy of mind and feminist philosophy; in particular, in issues pertaining to the possibly gendered dimensions of our concepts of moral responsibility, shame, and guilt.
Teaching:
Dr. Antolic-Piper teaches PHIL 101, Introduction to Philosophy and PHIL/ART 305, Seminar in Aesthetics. In the fall of 2015 she will be teaching PHIL/WMST 350, The Philosophy of Feminism.
Selected Publications:
"Beyond Bosnia: Ethical Reasoning in Political Deliberations about Humanitarian Intervention," in: Timothy R. Walton (ed.), The Role of Intelligence in Ending the War in Bosnia in 1995 (Lexington: Lexington Books 2014), 15-33 (Co-authored with William Hawk, David McGraw, and Mark Piper).
"Roger Bacon," Internet Encyclopedia of Philosophy. http://www.iep.utm.edu/bacon-ro/
"Roger Bacon on Logic and Language," Internet Encyclopedia of Philosophy. http://www.iep.utm.edu/bacon-la/
"Roger Bacon on Experiment, Induction and Intellect in his Reception of Analytica Posteriora II 19," in: F.A.J. de Haas, Mariska Leunissen, Marije Martin (eds.), Interpreting Aristotle's Posterior Analytics in Late Antiquity and Beyond (Leiden: Brill Academic Publishers, 2010), 73-97.
Roger Bacon, Opus maius. Selections from Moral Philosophy, introduction and translation (Latin to German) (Freiburg im Breisgau: Herder Verlag, 2008).
Experience and Demonstration: The Sciences of Nature in the 13th and 14th Centuries, co-edited with Alexander Fidora, Matthias Lutz-Bachmann, Dorothée Werner, and Peter Hoffmann (Berlin: Akademie Verlag, 2007).
Knowledge and Science. Problems of Epistemology in Medieval Philosophy, co-edited with Matthias Lutz-Bachmann and Alexander Fidora (Berlin: Akademie Verlag, 2004).