The JMU Music Academy offers classes in both Piano and Guitar! Please see the information below regarding specifics. 
Piano In-Person Classes Fall 2021: "Holiday Favorites"
We return to in-person piano classes with "Holiday Favorites," focusing on the music of the holidays and wintry spirit!
Classes will be held Fridays at the JMU Music Building and will run from September 10 - December 10.

Beginner class: 12:15-1:15pm
Intermediate class: 1:30-2:30pm 

Space limited, masks required. 

Registration: $250 including materials.
Register for Holiday Favorites
Questions? Email jmumusicacademy@gmail.com
Online Piano Learning Packages
JMU Music Academy online piano courses are perfect for those looking for friendly and guided instruction while enjoying the convenience and flexibility of learning at home! Each package includes 10 pre-recorded video tutorials, e-materials, and two meetings with the instructor. Content includes improv, chording based off of lead sheets, and a mix of repertoire (pop tunes, classical, etc).
Piano Packages Descriptions
Beginner:
Level 1A:  Our starter level for beginners. Begins with off-staff letters and how to orient yourself/navigate the piano with basic white key 5 finger patterns. Mostly hands separate work, working towards basic note and rhythm reading, some basic chording of pop tunes, elementary music concepts.

Level 1B: For continuing beginners who don't need to review basic note placement and are comfortable with simple hands-together playing. Discuss how to hone hands-together playing and on-staff music reading. Improv includes longer chord progressions and keys. Slowly incorporating sharps/flats.
Continuing:
Level 2A: Appropriate for those comfortable with basic note reading and hands-together playing. Emphasis begins to be placed on value of learning by pattern or figure over a single note. Develop intermediate music concepts through exploration of various repertoire and lead sheets from popular tunes. Begin to explore more complex 5 finger patterns. 

Level 2B: Deeper intermediate musical concepts explored beyond note-playing, improvisation, expansion of lead sheets and repertoire. Focus also includes how to interpret and understand music
by looking at shape, range, and relationships within the music. Discuss technique and physical and kinesthetic senses while playing. 
Intermediate:
Level 3A: Continuing discussion of deeper intermediate musical concepts: texture, contour, voicing and also "how to learn" more efficiently based on patterns in the music. Explore different styles and textures of music through various intermediate repertoire and also full pianistic renditions of pop tunes.

Level 3B: Meant to prepare students to enter intermediate level private lessons with their own instructor. Continuing discussion of patterns and texture found in music. Explore the multi-faceted dimensions of kinesthetic, physical, theoretical facets of playing. Cover some beginner Classical repertoire of Haydn, Chopin as well as some "easy-listening" lyrical pieces, and continue full renditions of popular tunes.
Classes will be held Fridays at the JMU Music Building 11:45am-12:35pm and will run from September 10 - December 10. 
Space limited, masks required.
Registration: $250 including materials. Link coming soon!
Bring your own guitar or use one of ours here. 
Instructor: Jonah Barnett
Questions? Email jmumusicacademy@gmail.com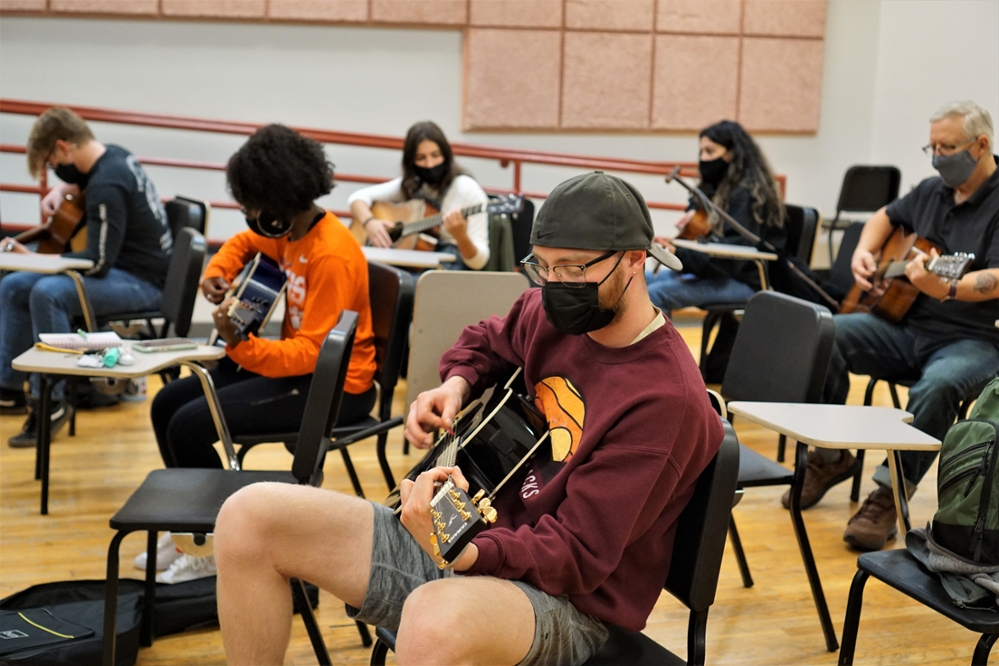 Testimonials
"I am really enjoying the Piano Academy Level 1B and appreciate your effective teaching style and the new pedagogical approach and all the things that I am learning. Thank you again for your wonderful teaching.  I am SO happy I decided to begin JMU's Music Academy.  You know better than anyone the joy that music brings to people, and it has also helped my state of mind and work/life balance, especially during these trying times of the pandemic." - Ana A-J, Spring 2021 Participant
"I am looking forward to starting my 4th adult piano class with Natalie and the JMU Music Academy in a couple of weeks. While I miss the interactions of the group sessions, the online lessons have provided much-needed flexibility to accommodate my chaotic schedule. Natalie carefully designs her virtual lessons to provide a mix of musical genres and demonstrate progression of skills to play the pieces. More importantly, she makes me feel empowered and excited to learn to play the piano again!" - Susan P., Spring 2021 Level 3 Piano Participant 
"After I retired, I decided to give piano another try, having a not-very-fulfilling or productive experience in my youth. I signed up for JMU Music Academy. What impressed me was how interested Natalie, our instructor, was in trying to figure out what my special abilities and interests were. I found myself enjoying and looking forward to class every week. Every class consisted of sight reading, playing melody with chords, and improvisation. There was something for everyone! Natalie has the unique gift of being able to inspire and motivate; her feedback always constructive and yet gentle. A whole new world has opened up to me, thanks to her." - Anne H., Retired JMU Professor Emeritus
"I have been having so much fun playing! I am so thankful for the Music Academy virtual lessons. It has been very empowering. It's so nice to feel like I can play again! Thanks for all you've invested in teaching us!" - Cedar J., Virtual Participant, Fall 2020
"As a former piano student during childhood, JMU Music Academy offered a perfect fit to resume playing piano as an adult. After two semesters, including both in-person and virtual instruction, I was able to build immensely on my beginner foundation in sight reading, music theory, and technique. The instructor, Natalie Doughty, provided engaging lessons that were attainable yet challenging enough to keep me motivated to continue learning and playing. The group format also created a fun, welcoming environment to learn with and from peers. I highly recommend Music Academy as a solid foundation to jump right into the rewards of playing piano!" - April T., Virtual Participant, Fall 2020
"I registered for the class really not knowing what to expect and I don't want it to finish! One of my interests was learning to play using chords and after just 12 weeks, I can play several songs using a guitar chord book at the piano.  In addition to refreshing my sight-reading skills, I learned that improvising is fun and anyone can do it!  It really was a creative, non-pressured environment and I learned more than I ever thought I would." - Janice G.
"I thoroughly enjoyed taking group piano lessons.  My wonderful teacher was very patient and kind!! It was also fun to interact with other people that I had not met before.  We became friends and we had a lot of fun.  I found myself looking forward to classes each week!" - Towana M.
"My two semester participation in the piano classes of the JMU Music Academy were very rewarding. I rediscovered my long lost love of playing in an atmosphere that is professional and non-threatening.  I was amazed at the amount of information that was covered in a once-a-week class as well as the high quality of instruction." - Cynthia T.
"My experience with the adult piano course has met above and beyond my expectations! Learning the piano has always been on my bucket list and I'm so glad I finally took this step. I've learned so much in just a few short weeks. I went from not knowing how to read a single note to being able to actually read sheet music along with learning 3 different hand positions, chords, and musical terminology. I can't believe I'm playing songs written from Chopin, Bach and Mozart! I enjoy my peaceful time practicing at home. I've always admired those musicians that can de-stress and get lost in their music. I can finally have that 'me' time!" - Patti C.
"I found the Music Academy group lessons to be fun, informative, and collaborative—we learn from and support each other!  As a result, I have regained my motivation to learn and play the piano, and I would unhesitatingly recommend the program to anyone, young or old, who aspires to develop their own musical interests!" - Steve P.