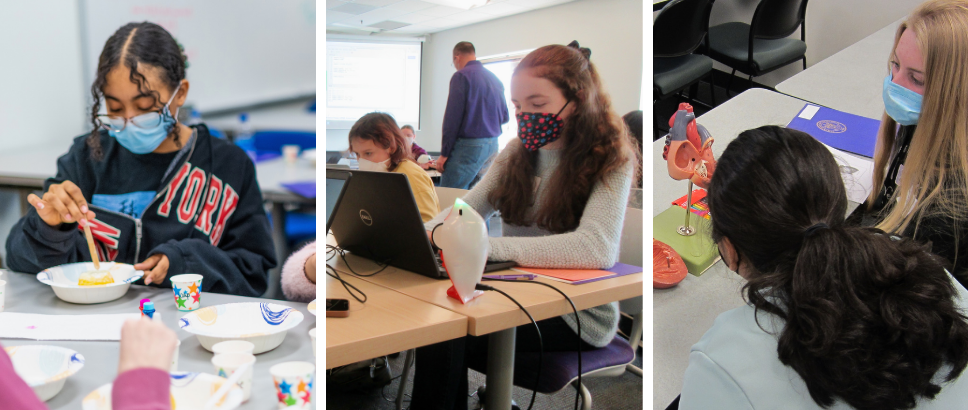 madiSTEM: A STEM Conference Designed for Girls in Grades 6-8
Formerly the Expanding Your Horizons (EYH) Conference at JMU
---
madiSTEM: Making a Difference in Science, Technology, Engineering, and Mathematics is a one-day STEM conference at James Madison University designed for girls in grades 6-8.  At madiSTEM, participants:
engage in exciting, hands-on STEM workshops organized by JMU faculty and students with a focus on the interests of middle school girls,


attend inspiring presentations by women in STEM careers to learn about their professional and personal experiences, and


interact with JMU students to learn first-hand about studying STEM fields in college.
Open to all students, grades 6-8.  Parents and teachers may attend madiSTEM with their students. There is no registration fee, but all students and accompanying adults and teachers must register in advance. We thank our generous sponsors for enabling us to offer madiSTEM to participants free of charge.
The 2024 madiSTEM Conference wil be held on Saturday, March 23, 2024, 9:00 AM - 3:30 PM. Pre-registration is expected to open on February 7, 2024. To receive announcements about this year's conference, use the link below to join our email list. 
---
Mission Statement: madiSTEM (Making a Difference in Science, Technology, Engineering, and Mathematics) at James Madison University is designed to engage girls in grades 6-8 in high-quality hands-on STEM activities and small-group interactions with female scientist role models to foster and support their interest in STEM fields, to increase their awareness of opportunities in STEM-related careers, and to empower them to see themselves as future participants in these fields and careers.

To be among the first to receive announcements about the conference, join our email list, like the madiSTEM page on Facebook, or follow us on Twitter or Instagram.


Conference Email Address: madistem@jmu.edu
Are you accessing our website from a mobile device?  To see the left navigation menu, click the purple arrow at the top of the page.
 
James Madison University does not discriminate on the basis of age, disability, race or color, height or weight, national or ethnic origin, political affiliation or belief, religion, sex, sexual orientation, gender identity or expression, veteran status, parental status (including pregnancy), marital status, family medical or genetic information, in its employment, educational programs, activities, and admissions. JMU complies with all applicable federal and state laws regarding non-discrimination, affirmative action, and anti-harassment.