TIPS FOR CUTTING POSTAGE COSTS


1. Mail Services offers addressing services for jobs containing more than 200 pieces for a Non-Profit mailing or 500 pieces for a 1st Class mailing. These quantities and our processes allow us to receive postage discounts. The services provided offer cost relief from labor and labels. Half the service fees go back to JMU.

2. Type addresses The USPS offers discounted postage rates for typed addresses because they can be processed more efficiently through automated equipment

3. Keep the bottom right 4 ¼" of the envelope blank This area is for the barcode sprayed by automated machinery.

4. City, State and Zip are the last pieces of information at the bottom of your address window

5. Keep the address information together, don't double space an address

6. UPS might be cheaper than USPS because of the state contract pricing

7. Update address lists whenever you receive notification of a change. This will avoid future charges for address correction notices and wasted postage on undeliverable pieces.

8. If you mail large volumes, consider Address Change Service for electronic notification of address changes to update your file. This can save you 50 cents each. Specific requirements and guidelines exist, so contact Frances Nazelrod at 568-1706 for assistance.

What's my address at JMU?

All students living on campus will have a JMU mailbox. Your mailing address is

800 South Main Street
JMU Box ####
Harrisonburg, VA 22807

Mailbox assignments can be found on MyMadison.

If you live off campus, your mailing address can be obtained from your landlord.

Important Phone Numbers

Tina Custer, Sr. Site Manager - 540.568.7869
e-mail mailservice@jmu.edu

Mail Processing Center

1070-A Virginia Ave., Harrisonburg, Va 22802
Frances Nazelrod, Site Leader
Phone - 540.568.1706

Student Mail Center

Madison Union, JMU
Cheryl Meade, Site Manager
Phone - 540.568.6042
Fax - 540.568.3900
Email - mailservice@jmu.edu

NON-PROFIT ELIGIBILITY


* JMU departments are authorized for Non-Profit mailings

* Mailings made in conjunction with other organizations are ineligible, but can be sent at Standard Mail rates (cheaper than 1st Class).

* Promotions or advertising for travel arrangements, insurance policies, credit, debit or charge cards are not permitted.

* Products and services offered that are substantially related to JMU's primary purpose are permitted for advertising.

* Each mailing piece must weigh less than one pound and be 1/4" or less in thickness

* Checks received by request of the mailing must be made payable to RICOH.

* Must have a JMU return address including 800 South Main Street.

* Minimum of 200 pieces being mailed

* Domestic addresses only, no international addresses

ADDITIONAL TIPS

* The better the address file, the more efficient the processing of the mailing. Keep specific parts of the address in designated fields (only streets in street field, only zip codes in zip field, only states in state field, etc.).

* Ask about postal regulations before designing your mail piece. The location of the folded edge can cost you a surcharge. A poorly designed postcard could cause non-delivery of the piece.

* Allow additional time for delivery since Non-Profit mailings are last on the list of priority. However, very timely deliveries are often achieved.

Tid Bits

Typed and computer-generated mail moves more quickly through the USPS than mail with handwritten addresses. This mail can be processed through the automated system at the USPS and results in faster delivery.
Make sure very sensitive items are sent requiring a signature so they won't be placed in your box and NEVER have cash sent through the mail.
Department mail must have its six digit organization number noted on it or Mail Services may not be able to meter and process your mail. This could result in your mail being returned to you.
The USPS requires that mail lists used for generating large volumes of mail ("bulk" mail, now referred to as standard mail) be certified every six months. Certification is a USPS strategy to cleanse and format mail lists by comparing the address to USPS national address data.  
"Mail Service is no better than the address on the article of mail."
Proper Format for JMU Mail
Example - Department Mail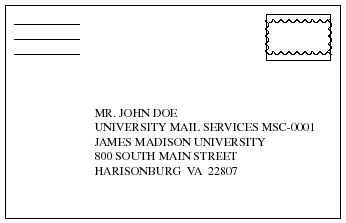 Example - Student Mail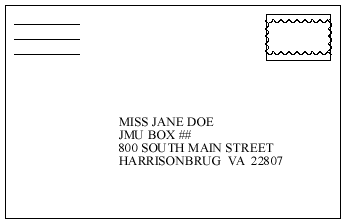 PICK UP & DELIVERY SCHEDULE

HOURS OF OPERATION

Departmental Routes
Mon - Fri     8:30am-12:30pm
Sat     N/A

Madison Union Mailboxes
Mon - Fri     10:00 am - 11:00 am
Sat     N/A
Students
Mon - Fri     10:00 am - 5:00 pm
Sat     N/A

Campus Drop Boxes
CISAT/ISAT, Godwin, Sheldon, Wilson, Festival, and Memorial Hall, Carrier Library, Rose Library
Mon - Fri     2:00 pm
Sat     N/A

USPS Drop Box
Godwin Bus Stop
Mon - Fri     5:00 pm
Sat     4:00 pm

The service window and student mailboxes are located on the second (main) floor of Madison Union.

Window Hours

Academic Year Mon - Fri     9:00 am - 5:00 pm
Sat     10:00 am - 2:00 pm

Summer Mon - Thur     9:00 am - 4:00 pm
Fri     9:00 am - 12:00 pm
Sat     Closed

MAIL SERVICES WILL FOLLOW ALL UNIVERSITY CLOSINGS
This applies to weather related closings and Holidays

Processing, metering and delivery operations are located at 1070-A Virginia Ave, Harrisonburg, Va 22802

Processing Hours
Mon - Fri     7:30 am - 4:00 pm
Sat     6:45 am - 10:45 am
(No deliveries on Saturday)
IMPORTANT...
All outgoing department mail must be received at our service window before 2:30 pm to be metered with a discount. All outgoing mail received by 2:30 pm will be metered and sent out the same day (unless a special request is made at the window). All outgoing mail received before 4:00 pm will be post marked the same day.