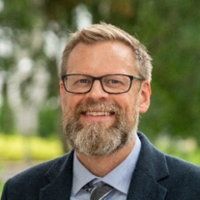 Dr. Daniel Beers is an Associate Professor of Justice Studies, focusing on Global Justice (Track B) and Humanitarian Affairs. His research and teaching focus on issues of international development, democratic state-building, humanitarianism, and poverty alleviation. Beers has experience conducting field research and leading off-campus study programs in a variety of international settings, including projects in Ukraine, Romania, Haiti, Turkey, and Jordan. Currently, his research focuses on humanitarian aid and post-disaster reconstruction in Haiti. Beers is also the director of a small international non-profit, Resources to Resources, which works to help support locally-driven projects in disaster-affected communities in Haiti. For LAXC, Beers has recently taught "Solutions to Global Poverty," "Intro to Humanitarian Affairs," and "Solutions to Global Poverty."
Publications
"The End of Resettlement? U.S. Refugee Policy in the Age of Trump"
"Promoting Global Empathy and Engagement through Real-Time Problem-Based Solutions" 
"Policymaking in Post-Earthquake Haiti: A Real-Time Classroom Simulation"
"A Tale of Two Transitions: Exploring the Origins of Post-Communist Judicial Culture in Romania and the Czech Republic"
"What Motivates Romania's Migrant Mayors? An Institutional Analysis of Party-Switching at the Local Level"
"Sensitive Questions Demand Sensitive Methods: A Comparative Analysis of Interview and Survey Responses to Questions about Corruption and Professional Misconduct in the Romanian Judiciary" 
"The Rule of Norms: Examining the Institutional Culture of the Judiciary in Romania and the Czech Republic"