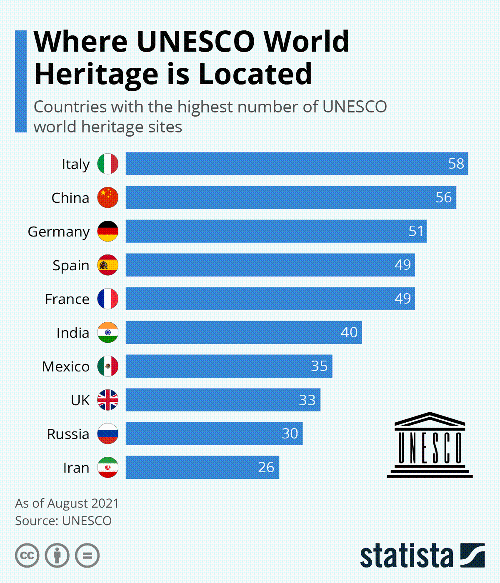 Knowledge of Italian is important for people in business, the arts, technology and many professions. According to UNESCO (the cultural and educational agency for the United Nations), over 60 percent of the entire world's art treasures are found in Italy. It also is useful for high school and college students planning careers in art history, music, linguistics, education and international relations;
Italy has long been a magnet for the tourism industry and has always headed the list of foreign destinations for vacation travel in Europe;
Italy is a world leader in machine tool manufacturing, with advanced technologies in robotics, electro mechanical machinery, shipbuilding, space engineering, construction machinery, and transportation equipment.  Many of these firms have offices in the United States;
Italy is a world leader in the culinary arts, interior design, fashion, graphic design, furniture design, etc. Those planning careers in such fields greatly benefit from knowing Italian;
Italy is one of the top seven economies in the world among Great Britain, Russia and China and is a leading member of the G8 Group of the wealthiest countries in the world;
An estimated 7,500 American companies do business with Italy and more than 1,000 U.S. firms have offices in Italy including IBM, General Electric, Motorola, City Bank and Price Waterhouse;
With the Italian market opening, American companies like AT&T and IBM have established ties with Italian companies in the areas of cable TV, international cellular telephone systems, the Internet and more, and need employees who speak Italian and English;
In December 2000, more than 6 million Italians went online from their homes. American companies expanding in Italy have a great demand for software designers, systems engineers, technical support, marketers and managers who speak Italian and English.
In January 2015, in occasion of the World Economic Forum Annual Meeting, the Italian Minister for Economic Development promoted a videoaimed at emphasizing Italy's potential as a leading country in a variety of fields. It is called "Italy the Extraordinary Commonplace", and it shows Italy beyond the stereotypes.
Learn more about studying in Italy in institutions other then universities (not through JMU)
WHY LEARN A FOREIGN LANGUAGE?
My View: Why language study should be part of your college experience (Russell A. Berman, 2011 President of the Modern Language Association)
What's the importance of learning a foreign language? (The Business Journal)