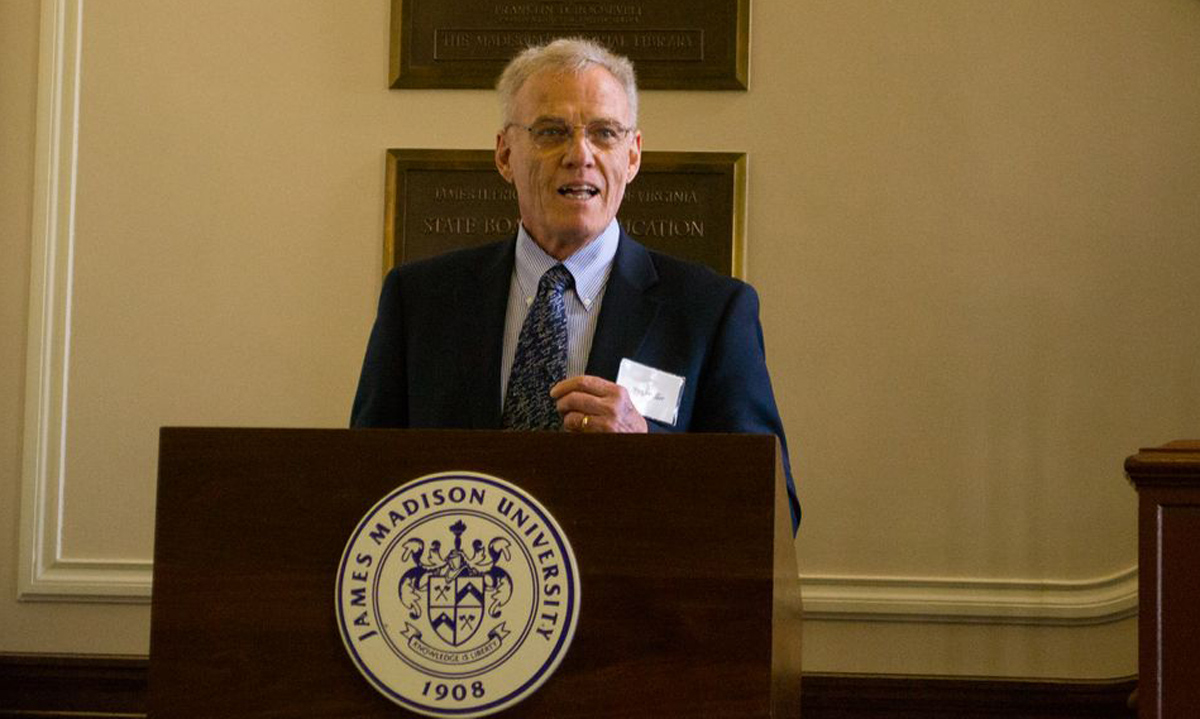 Professor Emeritus of Communication Rex Fuller welcomes faculty emeriti to the Faculty Emeriti reception. Fuller is president of the JMU Faculty Emeriti Association and the former chair of the School of Communications Studies.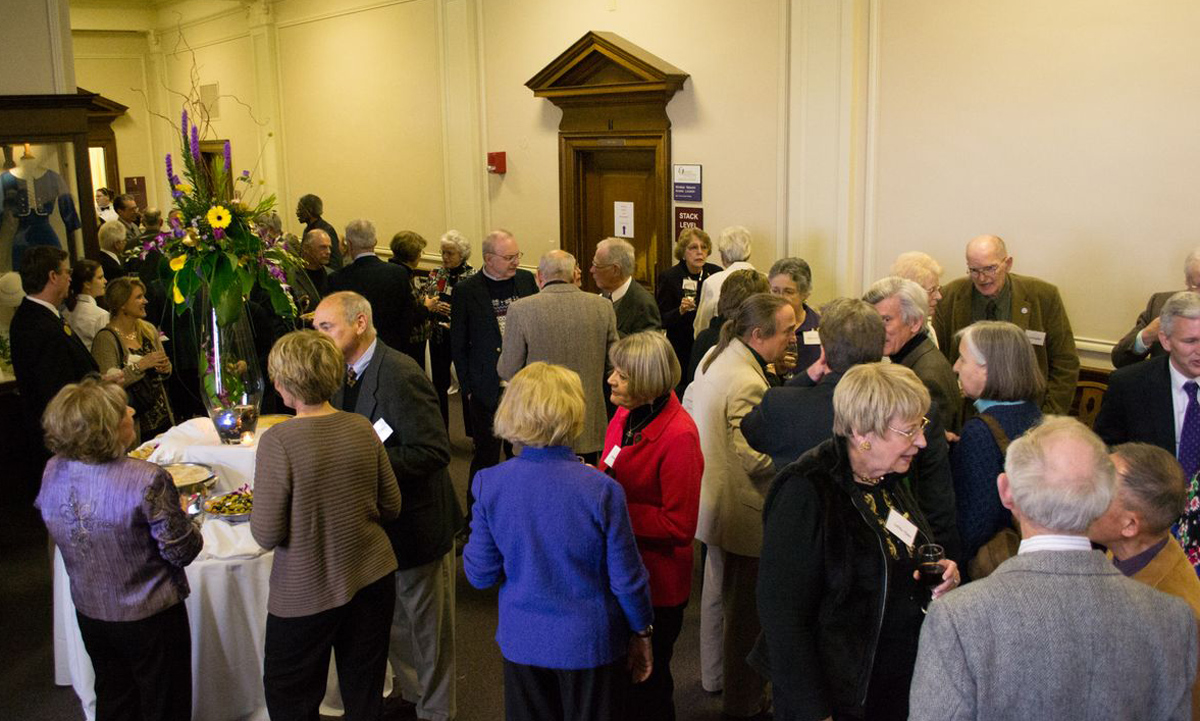 Faculty emeriti enjoy a reception in their honor at Carrier Library. The JMU Faculty Emeriti Association sponsors events throughout the year like a trip to the Dale Chihuly exhibit at the Virginia Museum of Fine Arts in January.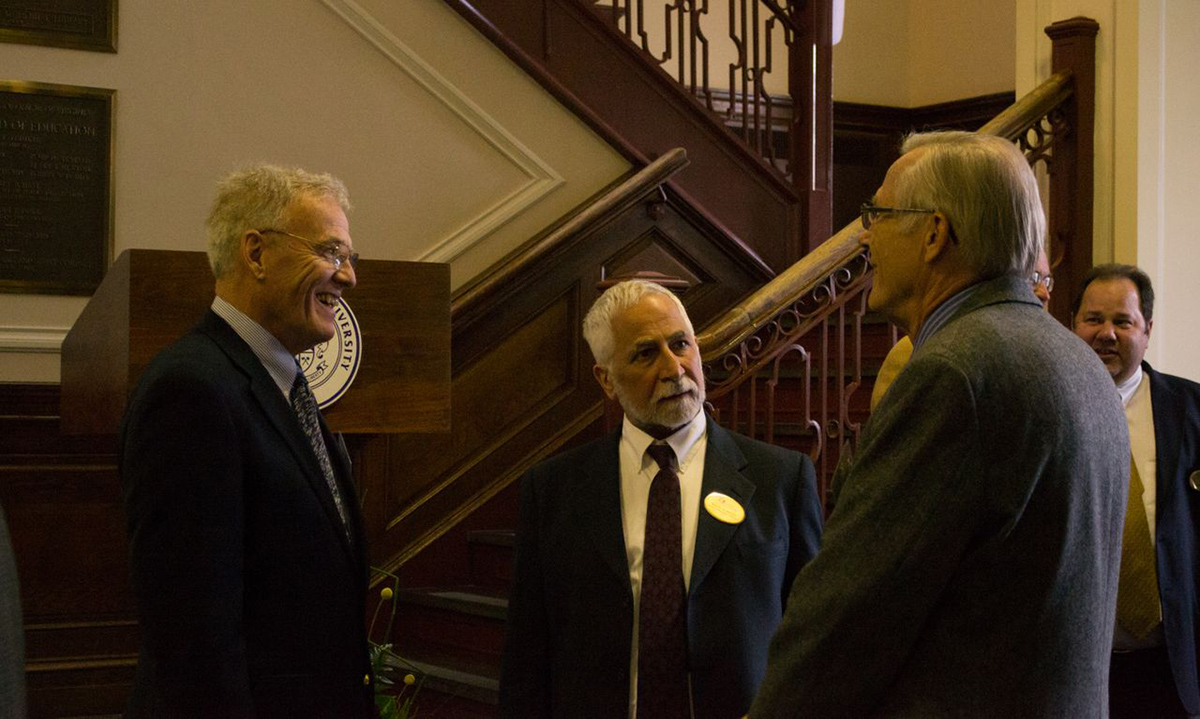 Professor Emeritus of Communication and JMU Faculty Emeriti Association President Rex Fuller and Dean of Libraries and Educational Technologies Ralph Alberico (center) talk with faculty emeriti members at the reception.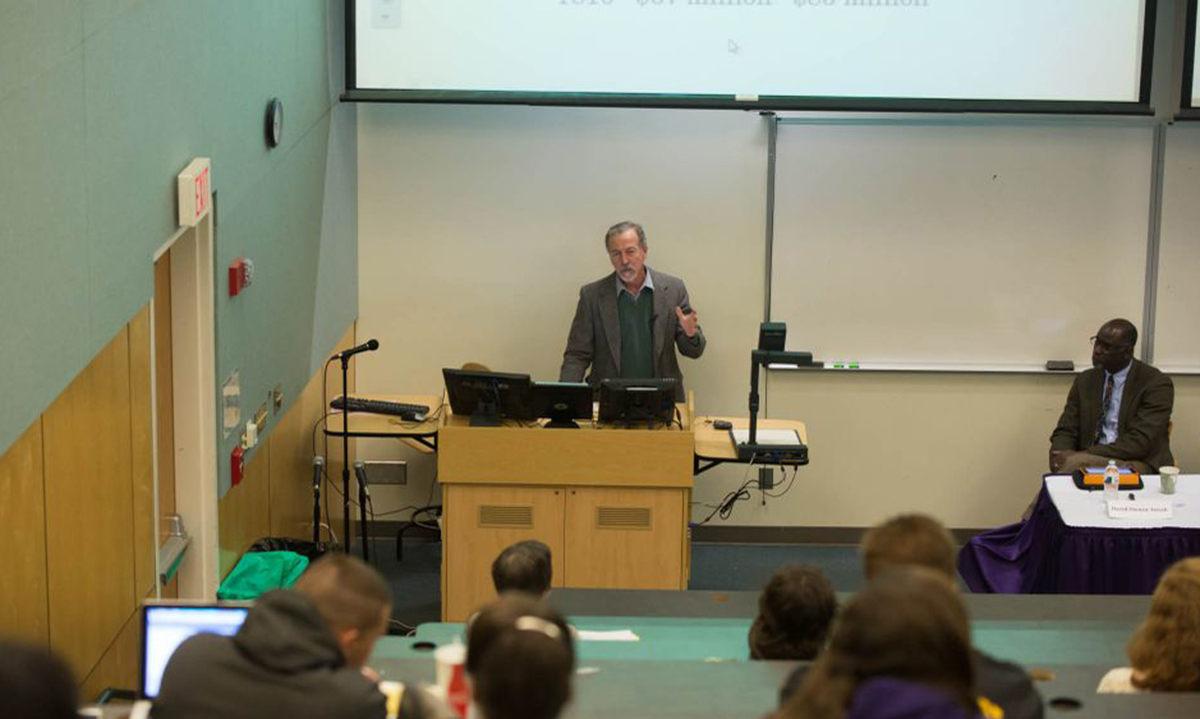 Faculty roundtable presenter Dr. Bruce Brunton of economics explains the background on the huge revenue and military problems President James Madison inherited upon taking office.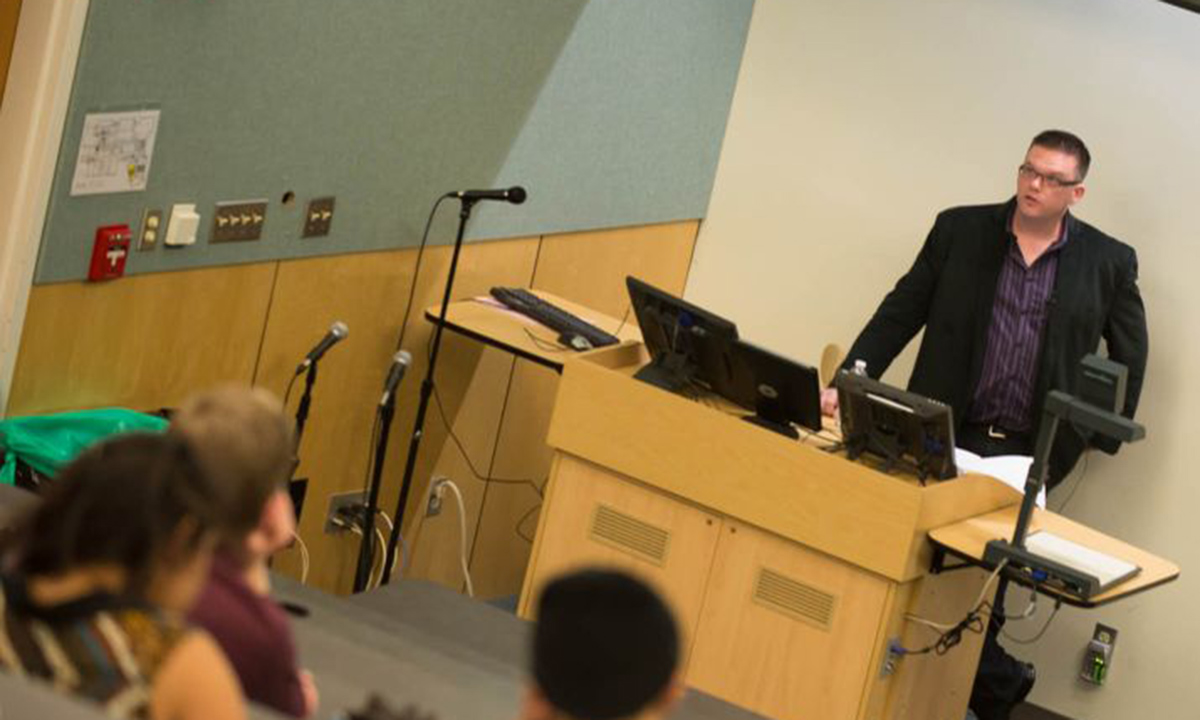 Faculty roundtable presenter Dr. Matthew Rebhorn of English describes the young America as "nature's nation" in his paper, "The Dialect of American Literary : Charles Brocken Brown and the Cultural World of James Madison."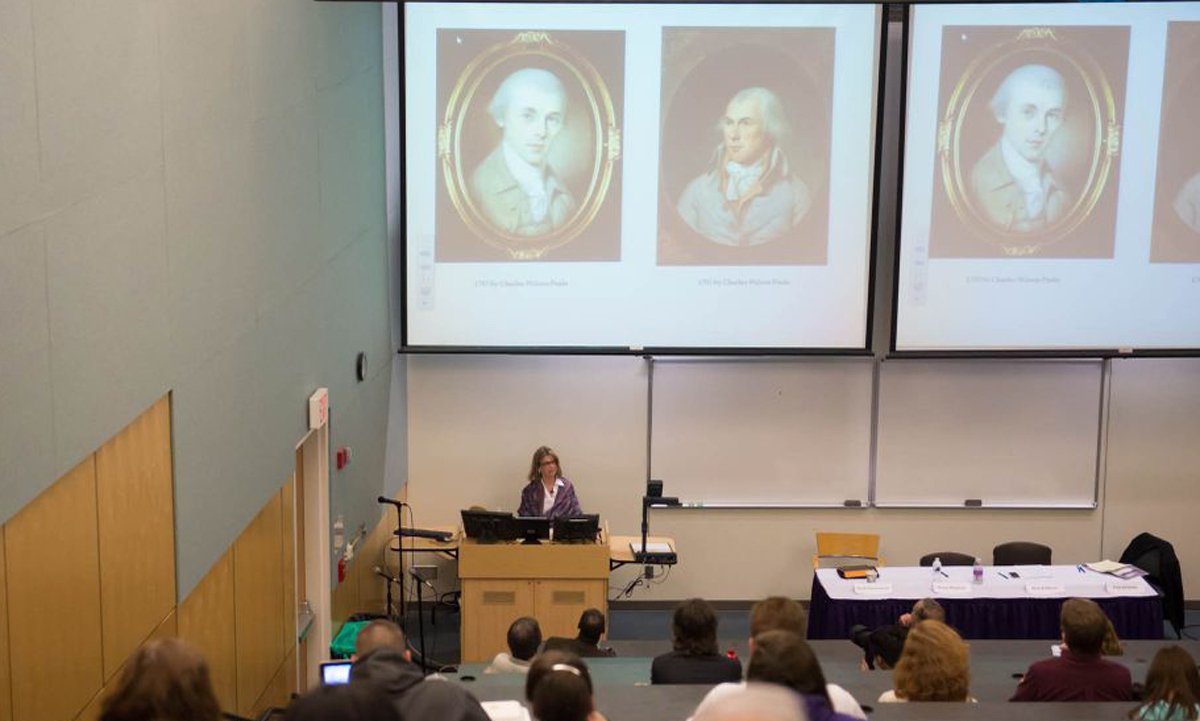 Pamela Johnson of theater, who intertwines her expertise in costume design with a keen interest in fashion history, explores "Fashions and Madisons: 1780-1820," including examples of English, French and Greek influence on American style.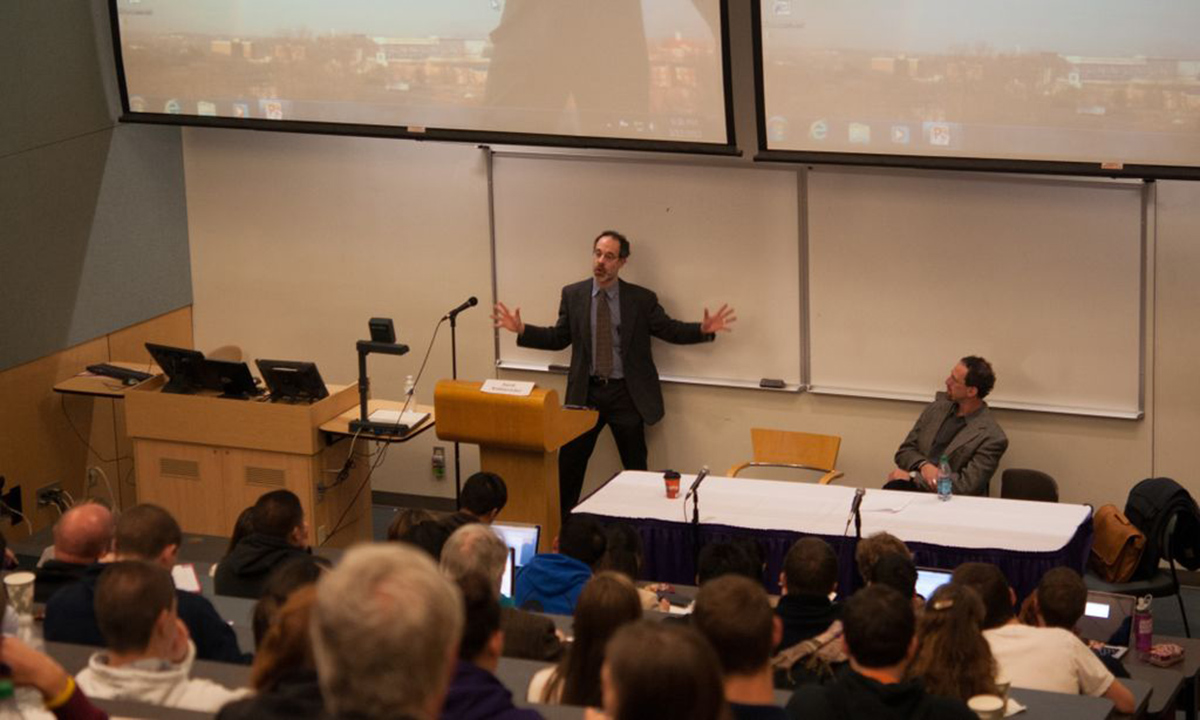 David Waldstreicher, professor of history at Temple University, spoke to a capacity crowd on "Madison, Slavery and the Constitution."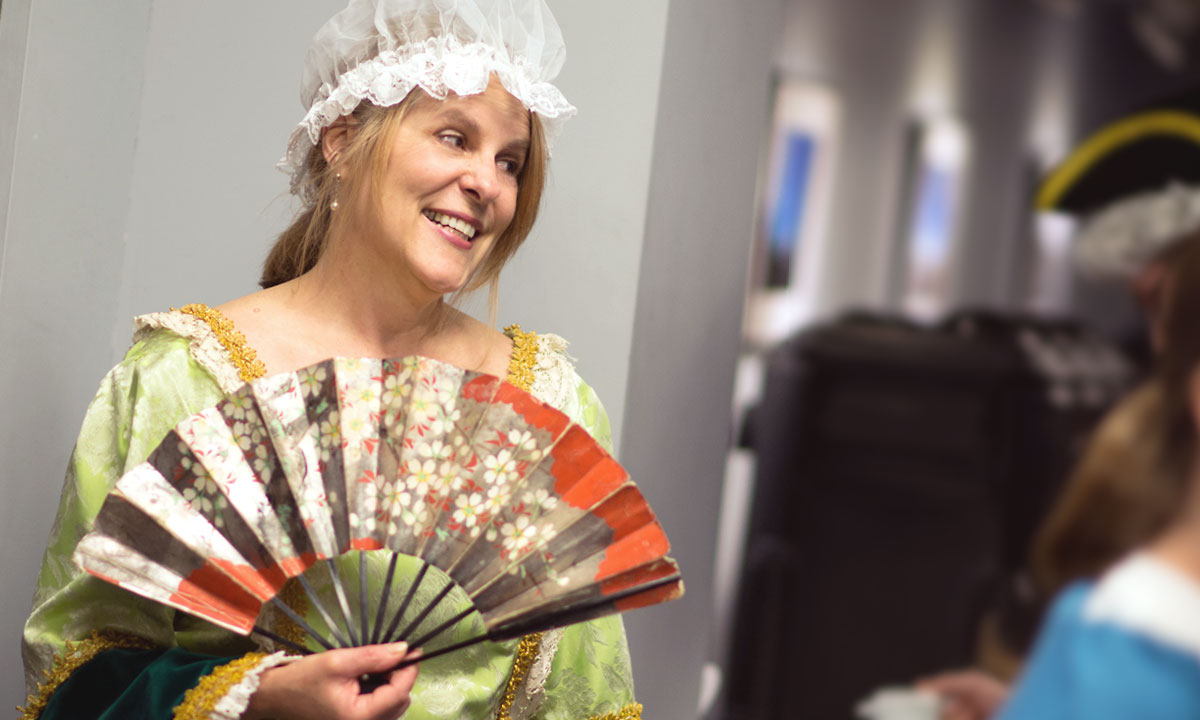 Shari Scofield, coordinator for Mad4U, got into the spirit of Colonial Tea Time.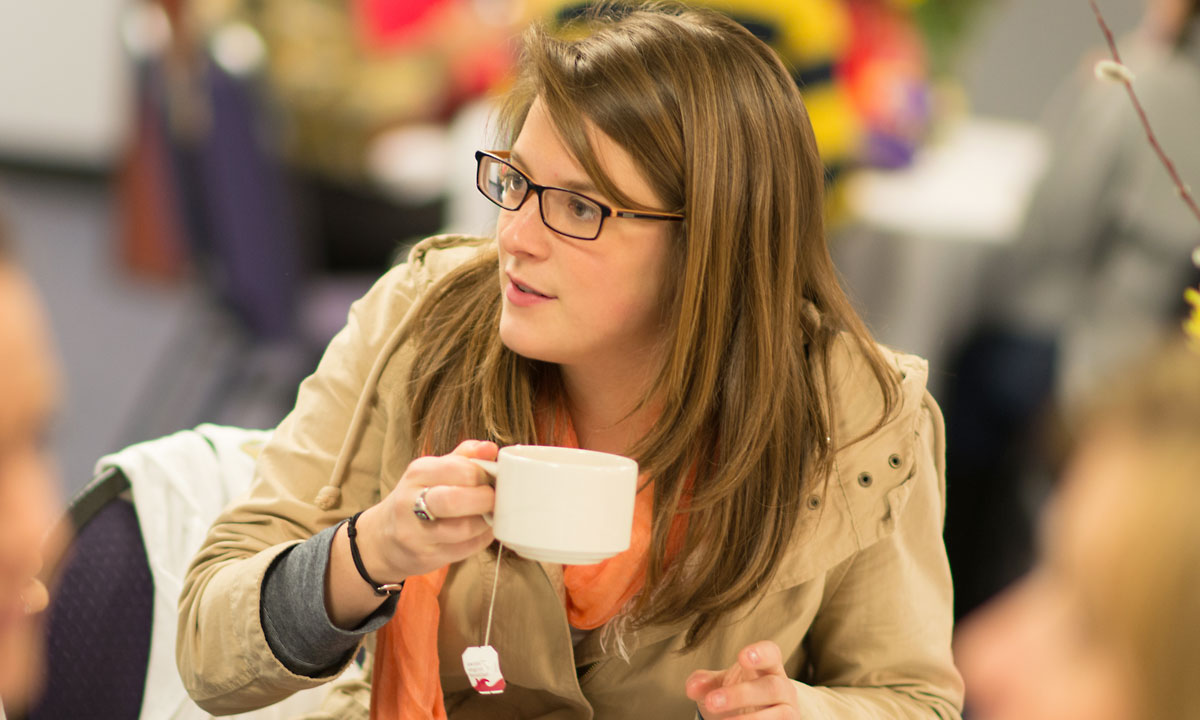 Over 300 students stopped by Transitions to participate in Colonial Tea Time.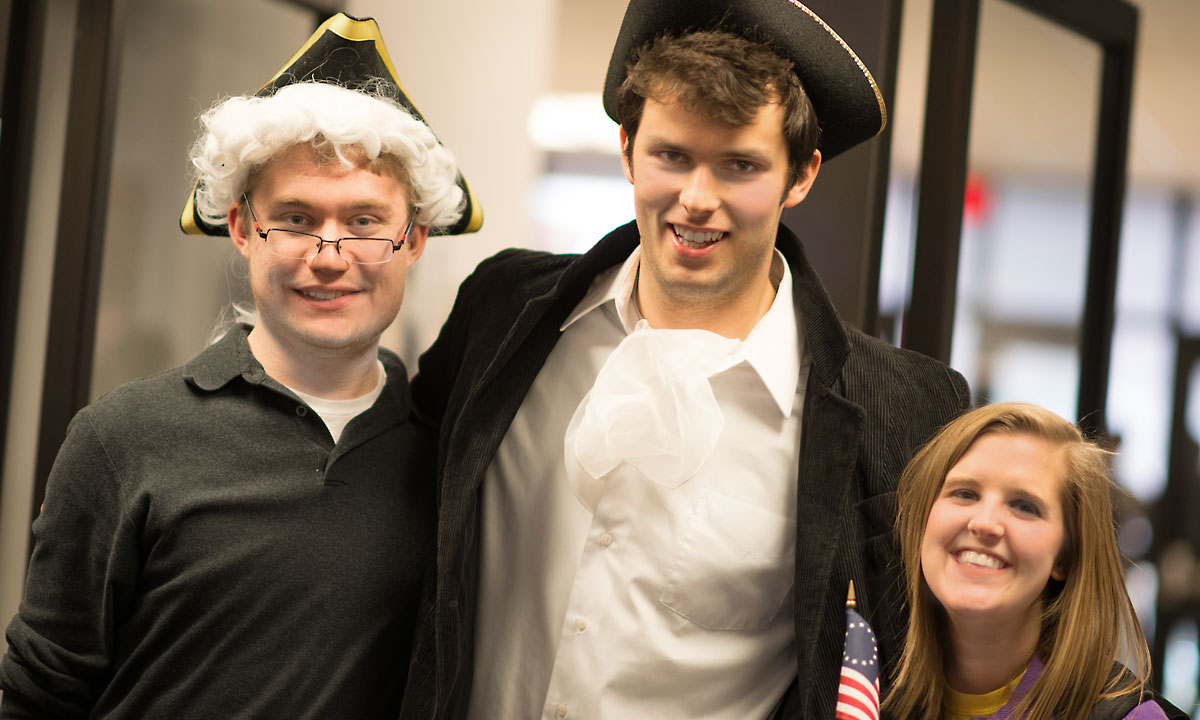 Student employees donned colonial garb to welcome students, faculty and staff to Tea Time.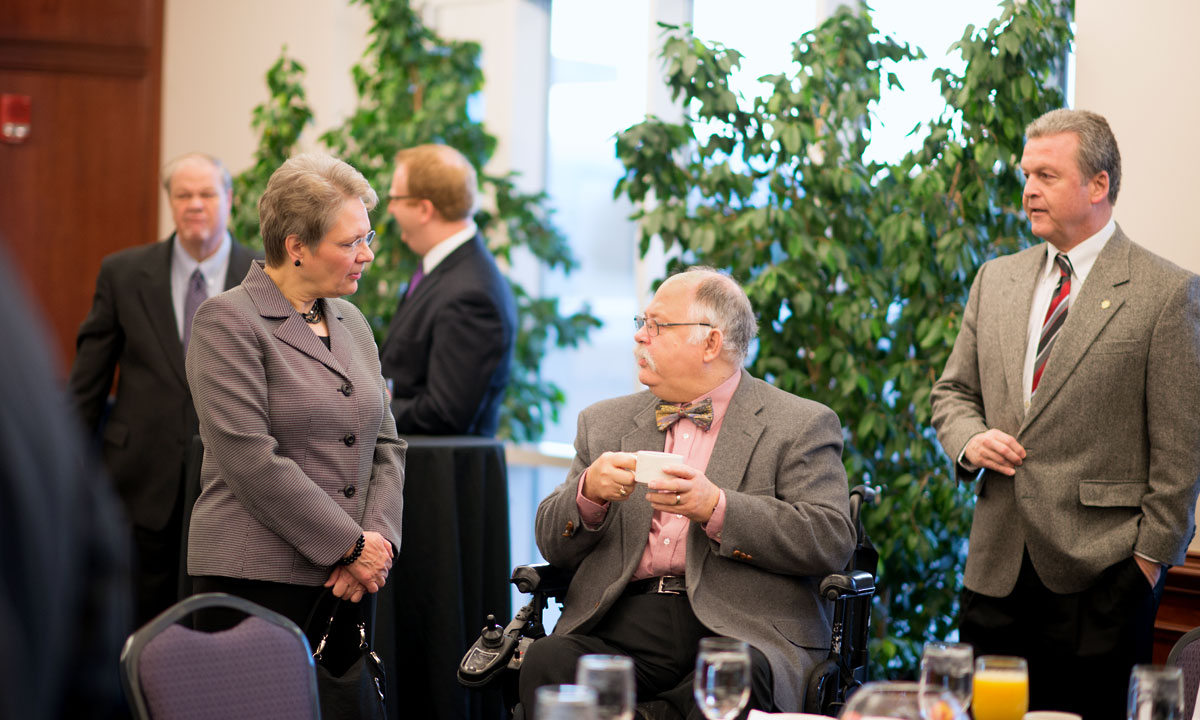 Business and community leaders filled the Montpelier Room for the Greater Madison breakfast honoring President Alger.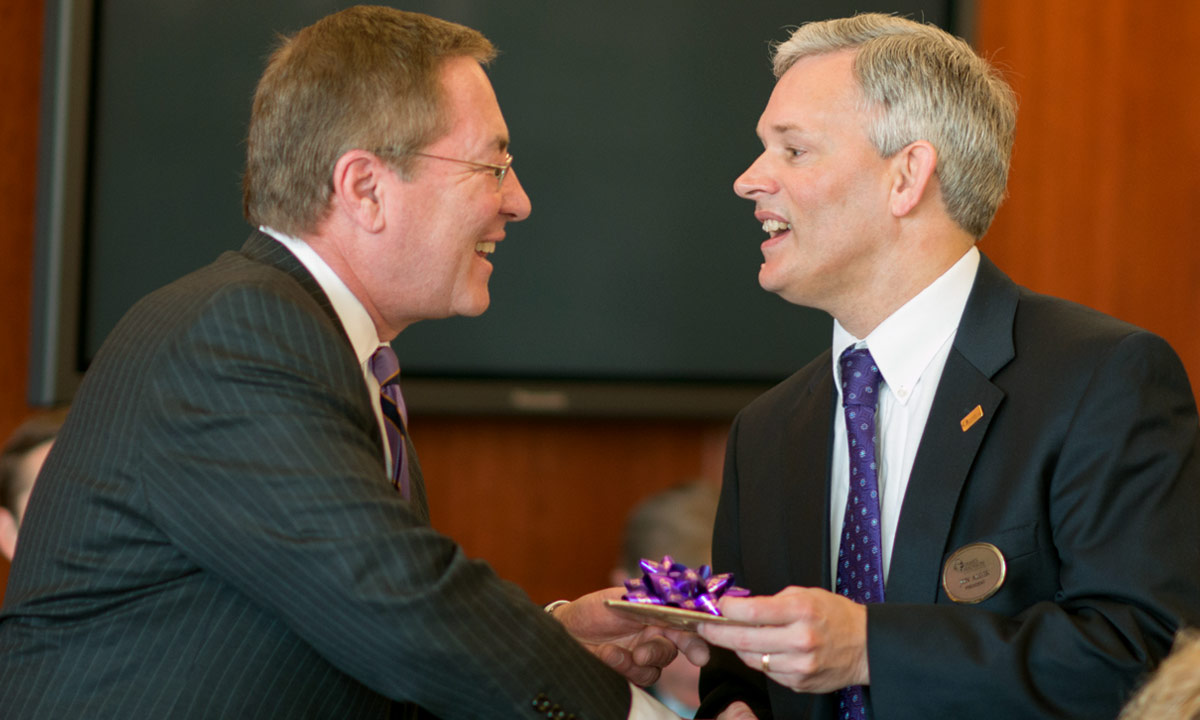 Greater Madison President Jim Sipe Jr. presented President Alger, an avid coin collector, with a set consisting of a James Madison $1 Presidential Coin, and a Bronze Medal bearing the likeness of Dolley Madison.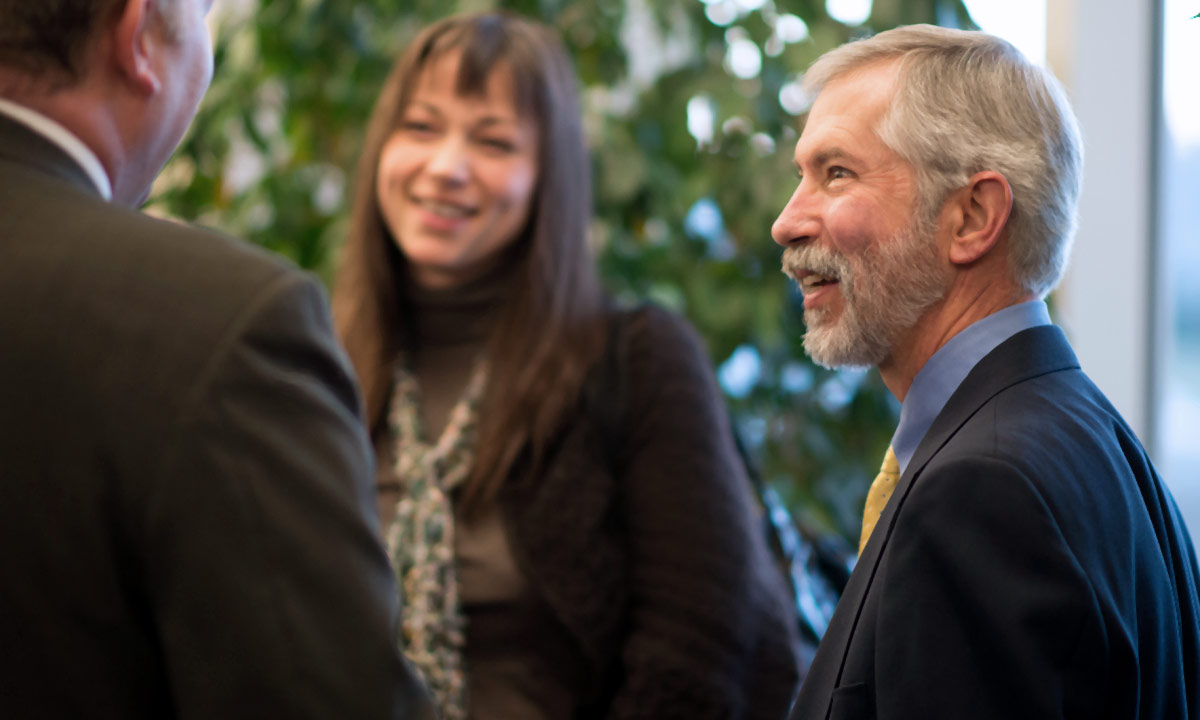 Eddie Bumbaugh, Greater Madison member, JMU alumnus and Executive Director of Harrisonburg Downtown Renaissance.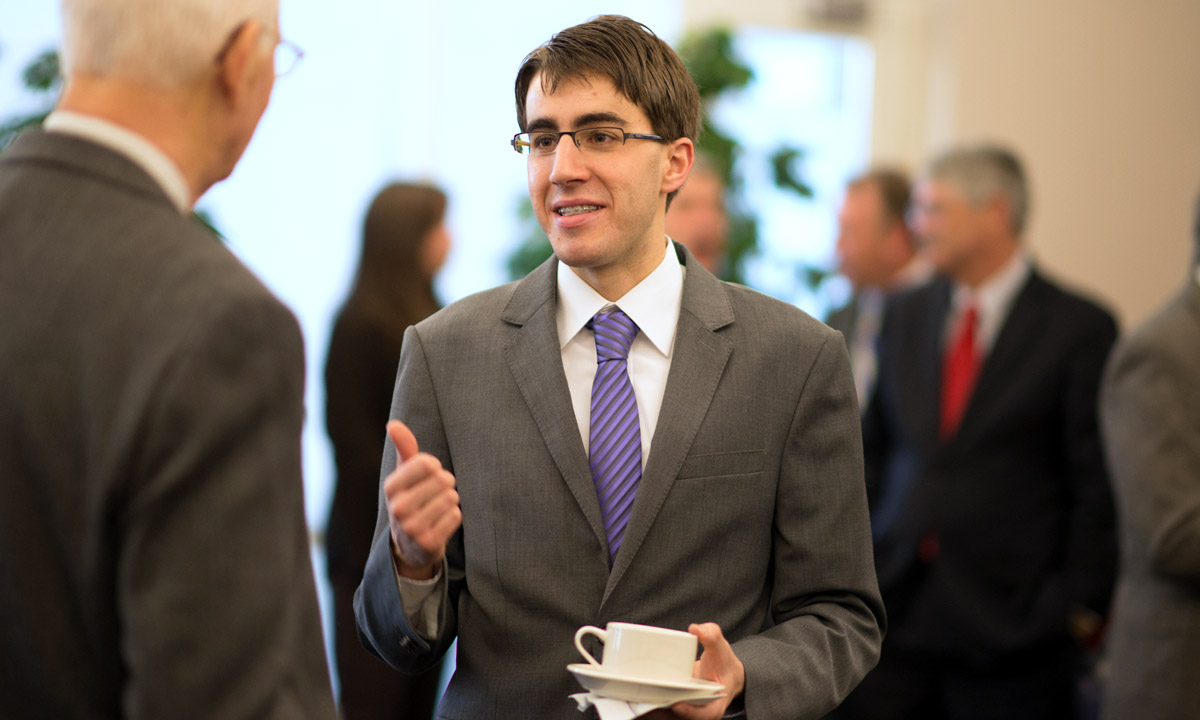 Truman Horwitz, president of Student Greater Madison, was recognized for his work in organizing The Big Event, a day of JMU student community service scheduled for Saturday, April 13.