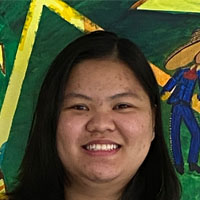 Tell Us About JMU:
Hometown & Country:
 Vietnam
High School / Previous Institution: 
Thoai Ngoc Hau High School ('20)
Major:
 Computer Science
Graduation:
 Spring 2025
Why JMU? "Because I found that JMU is a good business school and an amazing campus and community."
What do you like best about JMU? "The beautiful campus and friendly community."
What suprised you? "A big campus so I got lost in my first time."
What is your favorite class? "My favorite class is COB 191 because I love doing business analytics."
What do you like to do in your free time? "I usually hang out with my friends or cooking."