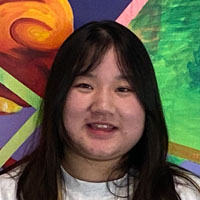 Tell Us About JMU
Hometown & Country: China
High School / Previous Institution: 
Major: 
Graduation: 
Why JMU? "JMU is located in Harrisonburg which is a quiet and safe city for living and studying. JMU is accredited by the Chinese Ministry of Education. The school's ISSS program offers generous scholarships to students. The school is accredited by the Southern Association of Colleges and Schools. JMU is two hours' drive from DC, so it is very convenient to travel to DC during holidays. The facilities of JMU are very complete. I was attracted by the teaching building and canteen of JMU when I saw them online for the first time. JMU also has excellent teaching resources. Ranked as one of the top national master's universities in the South for the 16th consecutive year, according to the 2010 U.S. News & World Report University Rankings."
What do you like best about JMU? "The students and professors are very friendly. As an international student, you don't have to worry about being uncomfortable in a foreign country. Instead, you feel relaxed here. I want to say the school cafeteria is really delicious and not expensive! There's even Asian food at Festival! What I like about JMU is maybe it really relaxes me."
What suprised you? "What surprised me most when I came to the school for the first time as an overseas student was that many people were basking, doing activities or sleeping on the lawn of the school. Let me feel the campus is a place to let me relax. Unlike Chinese universities, this is rarely seen."
What is your favorite class? "My favorite course is probably my course in studygroup. These classes are not so difficult, but you will have to work hard for them because they will improve your language, writing, and conversation skills. These are very important skills for international students in your future study and life."
What do you like to do in your free time? "On weekends, I like to go to the library to study. Because you can study more efficiently in the library. I like to go to UREC because it has a natatorium and swimming is my favorite. Of course, I also go to yoga or dance classes which are also very interesting. I study baking at home, and desserts are my favorite, even though they make me fat. Of course, spending time with friends is also a must. For holidays, I like to go to other cities. Traveling is a good opportunity for me to experience different city cultures."