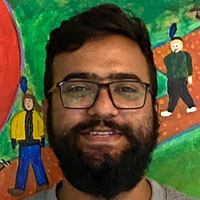 Tell Us About JMU
Hometown & Country: Pakistan
High School / Previous Institution: Punjab College ('17)
Major: Health Sciences
Graduation: 
Why JMU? "I chose JMU because it is such an amazing school. By vritue of becoming an international student I was concerned about my integration and adjustment on campus. After asking around and doing some research, I found out about the amazing atmosphere of inclusivity and care that is among us Dukes. The school's reputation in regards to academics was an important factor for me."
What do you like best about JMU? "There are so many things I love about JMU. From the beauty of the Quad to the rigor of the classes. The things that I learn in my classes are so practical that I can always see myself using everything that I have learned and relate it to the real world."
What suprised you? "The look of the campus and how big it was. I never expected it to be so big. When I first arrived I was so overwhelmed by the size of it, but the LINKers were right there to help me. They showed us around campus, and places around. The main thing that stands out to me now is that the campus that once looked so big, has grown on me and now is just like the back of my hand."
What is your favorite class? "As my interest is in health sciences, as my major, my favorite class is HTH 245 Infectious Disease. I took this class in the Fall of 2020. It was such an amazing and fascinating class because of the differences in the outcomes that we have today. Back then we had talked about MERS, a form of COVID."
What do you like to do in your free time? "I love playing squash and reading a good book near the lake on campus. My most recent pick has been The World of Tomorrow by Brendan Mathews."